Buyers Pay $40 Premium for Cooking Fuel as Saudi Supplies Shrink
(Bloomberg) -- As Saudi Arabia leads the way for OPEC by aggressively cutting output in a bid to shrink an oil glut, the impact is being felt in markets beyond crude.
While Crown Prince Mohammed Bin Salman swung through Asia last week, the kingdom's customers in the region were scrambling to find enough liquefied petroleum gas. Supply of the gases -- including propane and butane that are used for cooking and heating -- is drying up as they're byproducts of crude production.
On the demand side, rising consumption in India and increased purchases of Saudi LPG by China are exacerbating a shortage in the Middle East. That's resulting in Asian buyers going to the spot market as they can't get enough via term contracts. Over the last couple of weeks, Indian and Indonesian state oil companies issued tenders seeking 674,000 tons for delivery in the next two months, data compiled by Bloomberg show.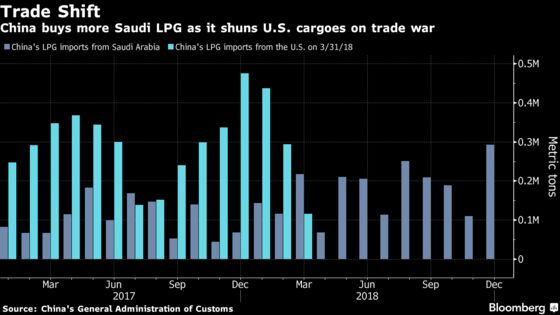 "A combination of factors such as strong Indian import demand and increased buying from China amid the trade war with the U.S. are supporting robust Middle East LPG prices," said Sri Paravaikkarasu, director of Asia oil at FGE in Singapore. "OPEC's crude production cuts are also expected to cap supplies from the Middle East."
In a sign of how much buyers are prepared to pay at the moment, Bharat Petroleum Corp. bought LPG cargoes for March delivery to India at a premium of $40 a ton above Saudi Arabian contract prices, said traders who asked not to be identified.
Saudi oil production fell to 10.2 million barrels a day in January, the least since May 2018. The world's top crude exporter cut output by more than it agreed to as part of a plan by the Organization for Petroleum Exporting Countries and its allies to re-balance the global market.