Banks Rise as Baird, Barclays Ring in 2019 With Bullish Tone
(Bloomberg) -- Bank stocks rose in the first trading day of the new year, skirting a sell-off in the broader market as some analysts weighed in with bullish comments after 2018's dismal performance.
The KBW Bank Index rose as much as 0.9 percent in morning trading, while the S&P 500 Index sank 1.6 percent. The bank stock gauge capped last year with a 15 percent rout in December that was its biggest monthly decline in almost a decade.
Such low bank stock prices "are not likely tenable," Baird analyst David George wrote in a note Wednesday in which he turned more positive on the sector. "Something has to give," George wrote, which could mean prices will rebound or estimates will need to be cut significantly. He sees a "recovery trade," with about 15 percent upside, as the most probable scenario, particularly if the economy avoids recession. George upgraded SunTrust Banks Inc., and flagged Wells Fargo & Co. and PNC Financial Services Group as "underappreciated quality names."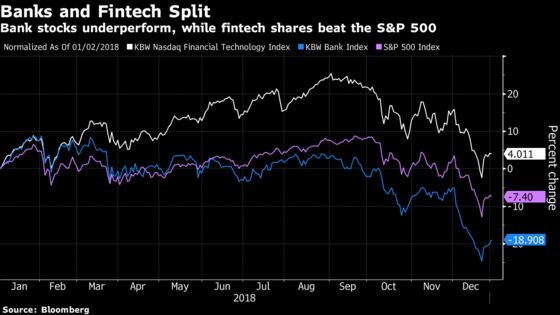 Barclays analyst Jason Goldberg is also bullish after 2018's year-end sell-off. Large-cap banks may outperform the S&P 500 as earnings and book value keep growing, regulations are finalized and they benefit from better technology and economies of scale, he wrote in a note. The group might also turn out to be "more defensive than investors appreciate" if the economy trails Barclays's base case of about 2 percent GDP growth, two 25 basis-point Fed interest rate increases and lower unemployment, he said.
The analysts' comments come after bank stocks posted their biggest annual decline in seven years. The KBW Bank Index tumbled 20 percent in 2018. The KBW Nasdaq Financial Technology Index rose 4.6 percent last year.
RBC's Gerard Cassidy raised ratings on Wells Fargo and Citizens Financial Group Inc., due in part to low stock valuations. Wells Fargo's share price "fully discounts the company's regulatory problems," including a Federal Reserve order limiting the bank's growth, Cassidy said. Still, he set his rating at sector perform, up from underperform, as the bank still isn't "out of the woods." He also sees Citizens, now rated outperform, as likely to keep improving its profitability.
Guggenheim's Jeff Cantwell wrote that he's positive on payments stocks as "fundamentals are better than valuations currently reflect." Guggenheim expects the shares will rise, driven by strong fourth-quarter results and 2019 earnings-per-share growth topping 10 percent year-over-year for most companies. Cantwell suggests buying First Data Corp., Worldpay Inc., and Visa Inc. Visa shares were gaining about 0.3 percent in early trading.
Analysis suggests "company-specific opportunities can offset macro headwinds" for some fintech companies, while valuations have declined to the extent that "cyclical fears may be overdone," Keybanc's Josh Beck wrote in his 2019 outlook.
Beck's key ideas include Adyen, Square Inc., PayPal Holdings Inc., Intuit Inc., and Global Payments Inc., as "finapps" may become mainstream as card usage shifts -- and as "no one is predicting a 2008 scenario," and consumers seem generally "healthy."
Analysts at Hovde Group, including Joseph Fenech, cut their estimates and price targets for banks across the board, but say that "the stock price reaction is overdone." They cited a "growth/margin conundrum for banks, which continues to intensify against the backdrop of a very challenging interest rate environment." They don't expect a broad deterioration in asset quality, this year or next, while more share buybacks may mitigate growth and net interest margin challenges. Hovde upgraded Prosperity Bancshares Inc., Evans Bancorp Inc., and German American Bancorp Inc. to outperform and cut Seacoast Banking Corp. and Signature Bank/New York to market perform.