Buttigieg Says No Firm Date to Lift International Traveler Bans
(Bloomberg) -- Transportation Secretary Pete Buttigieg said the Biden administration is not yet ready to lift restrictions on international travel to the U.S., even as it touts progress against Covid-19 in other areas including domestic travel.
"Unfortunately it can't be based on an arbitrary date, it has to be based on conditions," Buttigieg said in an interview Thursday with Bloomberg Television's "Surveillance" program, noting the U.S. has working groups with the U.K., the European Union, Canada and Mexico to determine when it will be appropriate to lift the bans.
"A lot of this is based on what's going on with progress in the vaccines," Buttigieg said. "We see good news and bad news in terms of the variants. One moment, you are reading about a variant across the world, next thing you know, it's becoming the dominant strain in the U.S."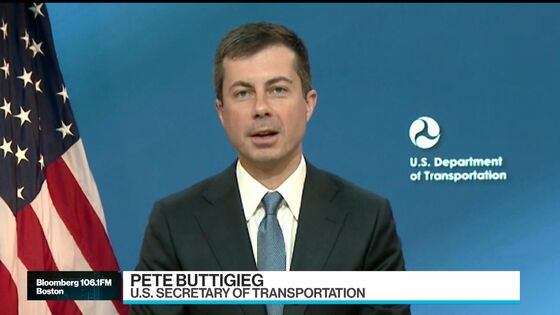 In late June, some EU countries have permitted American tourists to visit again if they've been vaccinated or meet other conditions, such as testing negative for Covid. The U.K. also has plans to allow travelers from the U.S. and other countries rated medium for Covid risks to enter without quarantine if they are inoculated.
So far, the U.S. hasn't reciprocated and with the spread of the delta variant adding more risk, it's unclear whether the Biden administration will act before the summer travel season is over.
Buttigieg acknowledged the U.S. travel protocols designed to prevent the spread of Covid-19 are "imperfect."
"We are dealing with a country-based framework for assessing risk when, in a perfect world, we would know all the information we need to have for a traveler-based framework," he said. "We can move in that direction somewhat. That is more refined and ultimately more accurate from a risk assessment standpoint."
However, Buttigieg added, the U.S. doesn't "have the toolkit" to do that currently and will continue to follow the strategy led by public health authorities, guided by the Department of Homeland Security, the Centers for Disease Control and Prevention, and the Transportation Department "to reopen travel as quickly as we responsibly can."