Buttigieg Vows to Work With Lawmakers on NYC-N.J. Gateway Tunnel
(Bloomberg) -- President Joe Biden's pick to run the U.S. Transportation Department vowed to focus on Covid-19 safety on public transport, and to work with lawmakers on the proposed Gateway rail tunnel between New York and New Jersey.
"Safety is the foundation of the department's mission, and that takes on new meaning amid this pandemic," Pete Buttigieg said Thursday at his confirmation hearing before the Senate Commerce, Science and Transportation Committee.
"We have to ensure all of our transportation systems -- our aviation and public transits, our railways, our railways, roads, ports, our waterways, and pipelines -- all of it is managed safely during this critical period."
In a mostly congenial hearing, Buttigieg, 38, a military veteran, Harvard University graduate and former mayor of South Bend, Indiana, faced questions from senators in both parties about various federal and local transportation issues.
Buttigieg said he was committed to working with lawmakers on such projects as the Gateway rail tunnel in the New York City metropolitan area. The new Democratic majority in the Senate is thought to have brightened the outlook for the $11 billion project.
Senator Richard Blumenthal, a Connecticut Democrat, pressed Buttigieg on the Biden administration's support for the long-sought project to build new tunnels under the Hudson River for Amtrak and commuter railways.
"Incredibly, these tunnels are 111 years old," Blumenthal said. "Think of the era when they were built. The technology has changed magnificently. The tunnels are decrepit, degrading, and about to potentially collapse. I would like your commitment that you will move this project which is essential to all rail traffic, indeed all transportation in the northeast."
Buttigieg responded: "Yes, I've heard this loud and clear from you and your colleagues and counterparts in the region and I look forward to working with you on this to move forward."
The nominee also acknowledged the need to raise revenue for the Transportation Department's Highway Trust Fund that's used to pay for federal infrastructure projects.
"We know that the Highway Trust Fund has more money going out than coming in, but for the regular transfers that this committee has authorized," Buttigieg said, alluding to the 18.4 cents-per-gallon federal gas tax, which hasn't been increased by Congress since 1993. "We need to develop more sustainable and predictable means for delivering that kind of funding."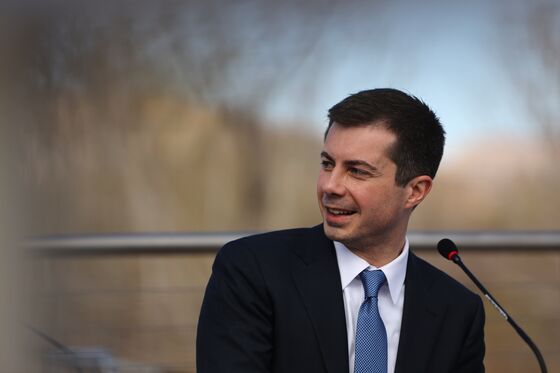 The Transportation Secretary-designate left office in South Bend after two terms to pursue the 2020 Democratic presidential nomination. Buttigieg narrowly won the Iowa caucuses but endorsed Biden after dropping out of the race.
The Transportation secretary oversees a budget of almost $90 billion, the majority of which pays for building roads, bridges and other highway infrastructure. The DOT also manages multiple agencies that regulate aviation, railroads, trucking and pipeline safety.
The position could be pivotal in any attempts by Biden to expand infrastructure spending, as some Democrats are seeking.
"We need to build our economy back, better than ever, and the Department of Transportation can play a central role in this, by implementing President Biden's infrastructure vision," Buttigieg said in his opening remarks.
The Biden plan, he said, would create "millions of good-paying jobs," revitalize communities, and help small business, farmers and others "compete and win in the global economy."
The department may play a significant role in attempts to mitigate the coronavirus pandemic. The White House has announced that Biden will push to require people to wear masks in airports and on planes, as well as enforce quarantines for people who arrive in the U.S. from other countries. Such a mandate will likely have to be enacted by the Federal Aviation Administration, which is overseen by the transportation department.
An executive order expected from Biden on Thursday will codify an action by former President Donald Trump to require a negative Covid-19 test before flying to the U.S., according to a Biden administration fact sheet.
"We are prepared to make sure we use all relevant authorities to enforce the president's executive order to ensure across every mode of transportation workers, passengers, commuters are protected," Buttigieg said of the new mask mandates.
Senator Mike Lee, a Utah Republican, asked Buttigieg if he would "agree with me if I said we have sort of overextended ourselves with regard to the Highway Trust Fund?"
Lee said that the fund was originally supposed to use the gasoline tax to build the interstate highway system but over time "we have added to the list of things we fund using the Highway Trust Fund and we have had to dip over and over again into the general fund over to meet our basic needs."
"We need look at any responsible viable revenue mechanism we can all agree on to do something about that," Buttigieg responded.
Pressed if that could include increasing the federal gas tax, Buttigieg said that was possible but "not the only approach."