Executives Give Ramaphosa Their State of the Nation Speech
Business leaders have been ratcheting up the pressure on South African President Cyril Ramaphosa to announce decisive measures to turn around the economy and fix struggling state-owned enterprises.
Ramaphosa has the opportunity to do just that when he delivers his state-of-the-nation speech in parliament on Thursday. The address, which begins at 7 p.m. in Cape Town, has been billed by South Africa's Business Day as the most important since Nelson Mandela's in 1994 -- the first after apartheid ended.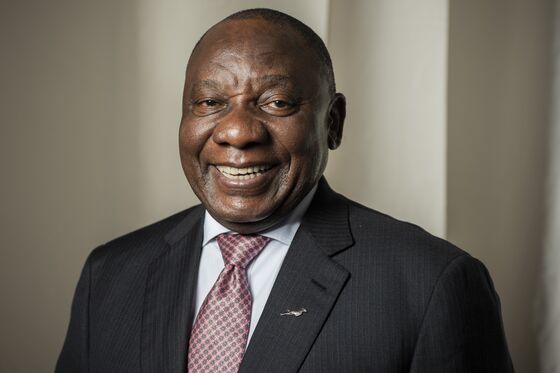 Top executives at some of South Africa's biggest companies want Ramaphosa to announce steps to help a nation stuck in its longest downward business cycle since World War II, with 29% of the population unemployed, and soaring violent crime leaving more than 50 people murdered every day.
Here's what's on their wish list:
Vodacom Group CEO Shameel Joosub
The government needs to define its priorities and what role the public sector is going to take, and then outline clearly where it wants companies to step in and direct their attention.
Plans to release additional broadband spectrum must be speedily implemented.
Investment is needed in power, fiber networks and other infrastructure that will underpin growth and encourage the development of new industries.
Business Unity Acting CEO Cas Coovadia
Urgent pronouncements on far-reaching economic structural reforms, with the key aim of unleashing economic growth and attracting investments.
A clear statement that public expenditure will be tempered in the budget to be presented on Feb. 26.
A clear position on a strategy to address the crisis facing state-owned companies. This must include decisions on which SOE's are of strategic importance, poor governance and management and a lack of qualified people, and the role of the private sector.
Sibanye Gold CEO Neal Froneman
Economic growth must be prioritized and steps need to be taken to rebuild business and investor confidence.
Bailouts for inefficient and mismanaged state companies must end.
The mining industry needs regulatory certainty and a more investor-friendly environment.
Investec Bank South Africa CEO Richard Wainwright
The government has little room to provide fiscal stimulus, and will possibly have to adopt an austerity budget.
Economy is reliant on private-sector activity picking up.
Structural reform and policy certainty are prerequisites for bolstering business confidence.
Rand Merchant Bank CEO James Formby
Concrete structural reforms are needed, such as speeding up visa access for tourists and workers with scarce skills.
The government must improve the management of its finances and show greater commitment to constraining the burgeoning fiscal deficit and bringing state debt under control.
The embattled state power utility has to be turned around and made financially sustainable, but the authorities should refrain from announcing solutions that don't have broad-based support.
Pick n Pay Chairman Gareth Ackerman
The government needs coherent policies that focus on execution, rather than planning.
State-owned companies should be run as businesses with minimal outside interference.
It should be easier and quicker for people with scarce skills to secure visas.
Inadequate food security should be addressed by taking steps to reduce wastage.
Shoprite Holdings CEO Pieter Engelbrecht
Over-regulation is stifling the economy. Some legislation is adding to the cost of goods, weighing on consumers, who are drivers of growth.
Crime must be eradicated so that South Africa can start behaving like a normal society and citizens can enjoy the fruits of economic freedom.
Provision of electricity is the first priority, and if the government can't stabilize Eskom and increase security of supply quickly, then it should allow the private sector to provide power.
Real action is now needed on corruption charges. It seems that we know what has been lost in numbers, but no convictions are forthcoming.