Business Lauds Trudeau's Tax Relief But Says More Could Be Done
(Bloomberg) -- Justin Trudeau spent a windfall on billions in tax breaks for Canadian businesses. Their response is that he still has work to do.
Finance Minister Bill Morneau unveiled a fiscal update Wednesday in Ottawa with C$14 billion ($10.5 billion) in temporary write-offs for capital investment, a pledge to slash red tape, some direct cash for businesses and a push to boost export markets. It was all meant as a bold response to warnings about Canada's fading competitiveness, particularly after President Donald Trump cut U.S. corporate taxes.
The mini-budget won acclaim from business groups -- they're "pleased," "encouraged" and "pleasantly surprised." But they're also not satisfied.
Calls persist for the Liberal government to do more on tax reform, on streamlining regulations and on reining in the deficit. That's not to mention doing something about an oil-price crisis in Alberta, where the fiscal update landed with a thud ahead of a visit Thursday by Trudeau.
"The crisis happening in this province affects the whole country but they are speaking a different language," said Alberta Finance Minister Joe Ceci, whose government is losing millions in royalties because of a near-record discount for local heavy crude compared to benchmark U.S. oil prices. "We must get our product to tidewater and nothing today addresses that."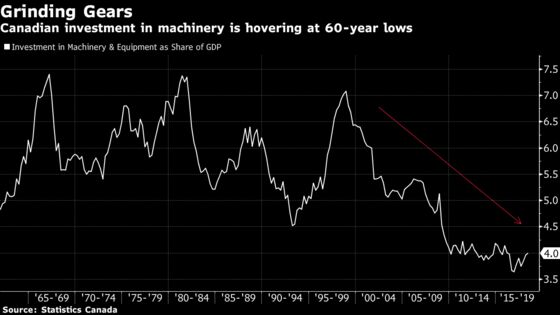 Generally, business reaction will be "at least moderately positive," Perrin Beatty, president of the Canadian Chamber of Commerce, said in an interview Wednesday. "They didn't go all the way in terms of accelerated write-offs for capital investment, but they went much of the way." He nonetheless called for more to be done.
The tax breaks for investment were the centerpiece of a document that otherwise showed both rising revenues and deficits. Investments in some sectors, such as manufacturing, can now be written off entirely, while all sectors saw at least some increase.
On average, the measures will reduce the marginal tax rate on new investment to 13.8 percent, from 17 percent currently, keeping an advantage over a U.S. rate of 18.7 percent, according to government calculations.
Morneau called the tax breaks good for everyone, including Alberta's oil industry.
"We've helped all Canadian businesses -- in all sectors, in all geographies, including the oil and gas sector -- with significant acceleration of depreciation expenses," he said in an interview with Bloomberg Television. That's "creating an opportunity for investing in an advantaged way that we think is going to improve investment, again, in all sectors."
The fiscal update showed government revenues exceeded expectations, but new spending and the tax breaks ate that up entirely. The deficit rose and will total C$83.5 billion over five years, up from the C$78.3 billion projected over the same time frame in February's budget.
The deficit for the 2018-19 fiscal is actually projected to be below what was forecast, at C$18.1 billion. However, each of the four following years are now seen having bigger shortfalls.
Canada's total debt is projected to rise to C$765 billion by 2023-24, from C$688 billion in 2018-19, while the ratio of debt to gross domestic product is forecast to fall.
The business investment measures, along with tentative agreement on a new continental trade deal with the U.S. and Mexico, "could combine to meaningfully spark investment," Bank of Montreal Chief Economist Doug Porter said in a research note.
"Today's announcement is a good first step in strengthening the business climate in Canada -- but we would encourage an even more forceful response in coming months to the multitude of competitive challenges now facing the economy," Porter said.
The temporary, targeted tax measures "should be at least marginally positive for business investment," Brian DePratto, senior economist at Toronto-Dominion Bank, said in a research note.
"While it is not encouraging that the government seems to have made a habit of spending most (or in today's case, all) of its fiscal windfalls, today's response to competitiveness challenges is a welcome use of funds."