Burn-Scarred California's Latest Threat: Mudslides and Floods
(Bloomberg) -- The latest disaster threatening California isn't fire but mudslides caused by the heavy rain forecast to sweep through the northern part of the state through Thursday.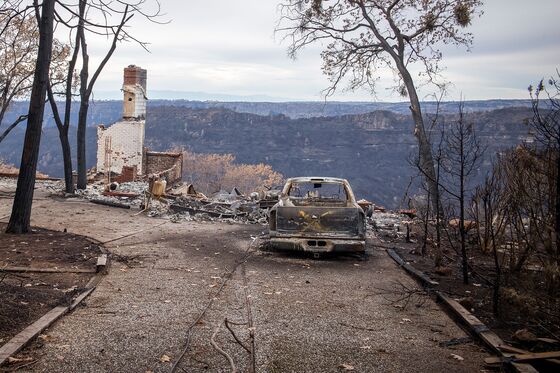 The deluge is expected to cause flash floods over some of the same areas scarred by the series of fires that has ravaged the state. They include the Camp Fire near Chico -- the state's deadliest and most destructive blaze ever -- which has killed at least 85 people, destroyed almost 14,000 homes and sent thousands of people into shelters, according to the California Department of Forestry and Fire Protection. The region was also scorched by the Mendocino Complex fire, the largest on record, in July.
The storms could also bring 12 to 18 inches (30 to 46 centimeters) of snow across the Sierra Nevada mountain range to the east, said Idamis Del Valle, a National Weather Service meteorologist in Sacramento. A second system arriving Friday could put an additional foot of snow in the mountains through Saturday, though more flooding isn't forecast, Del Valle said.