Bunge Is Nearing Deal With Activists for Board Seats, Review
(Bloomberg) -- Bunge Ltd. is nearing a settlement with two activist investors that would add four new directors to the board and start a strategic review that may ultimately end with a sale of the agricultural trading company, people familiar with the matter said.
Bunge, one of the world's biggest soybean processors, could announce the settlements with D.E. Shaw & Co. and Continental Grain Co. this week, said the people, asking not to be identified because the talks are private. The company is scheduled to report third-quarter earnings on Wednesday.
The agreement, which hasn't been finalized, caps a tumultuous 18-month period for Bunge, plagued by low earnings, the departure of its head of trading, and unsuccessful takeover approaches from much bigger rivals Glencore Plc., the world's top commodities trading house, and Archer-Daniels-Midland Co.
Under the agreement, Bunge's board would expand to 14 people immediately and add another member by year-end, the people said. The strategic review will look at both improving the company's operations, but also more broadly at the consolidation of the industry, potentially opening the door to the sale of Bunge or company units, one of the people said.
A Bunge spokesperson referred to an Oct. 8 statement saying the company is "engaged in ongoing dialogue with" D.E. Shaw and Continental Grain "with the objective of enhancing shareholder value."
If approved, the settlement would come at a time when the company has promised a strong second-half performance after lagging rivals earlier this year. In August, Chief Executive Officer Soren Schroder said Bunge expects 2018 earnings before interest and taxes to be $1.3 billion, or more than $700 million higher than in 2017.
If Bunge can hit the higher end of its guidance, it shows "Soren righted the ship," said Seth Goldstein, an analyst at Morningstar Inc. in Chicago. The White Plains, New York-based company's shares rose 3.4 percent to $68.02 on Tuesday. The Wall Street Journal reported the potential settlement earlier.
Continental Grain has been pushing Bunge to explore a sale since at least March, when it revealed a previously undisclosed stake in the company, people familiar with the matter said at the time. D.E. Shaw has also joined Continental Grain's push for changes at the agricultural commodities house, people familiar with the matter said this month.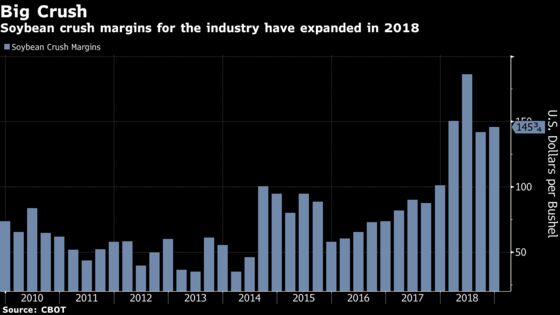 Bunge, which lost a fifth of its value since Feb. 6, saw mark-to-market declines of $120 million during the first three months of 2018, and another $125 million during the second quarter. But China's retaliatory tariffs on U.S.-grown soybeans, along with droughts from Argentina and other places, have brought volatility into the market, potentially helping Bunge thrive in the second half.
On his Aug. 1 call, Schroder said trading decisions the company was in the process of making would "be visible in Q3 and Q4 as we execute on our soy crush capacity."
Analysts, meanwhile, expect Bunge to report third-quarter earnings per share of $2.372, based on the median of nine estimates, compiled by Bloomberg. That's more than a three-fold rise from the 75 cents it earned a year ago.
"Investors will be focused primarily on execution (following a string of quarterly disappointments) as well as the road map for earnings growth in 2019," Ann Duignan, an analyst at JPMorgan in New York, wrote in a report Tuesday.
Bunge is the "B" of the four storied "ABCD" group of companies that have dominated agriculture for more than a century. ADM, Cargill Inc. and Louis Dreyfus Co. round out the quartet. Advanced merger talks between it and ADM ended without an agreement in April. In May 2017, Bunge rebuffed a merger proposal from Glencore.
Investors are increasingly anxious. At its annual meeting in May, 20 percent of its shareholders voted against the re-election of Schroder to the board, almost double the percentage a year earlier. Chairman L. Patrick Lupo had 26 percent of votes cast against his re-election, up from 11 percent in 2017, a filing showed.