Bulls Will Panic If Someone Says 'High Water Mark': Taking Stock
(Bloomberg) -- Stock futures are off lows after a slight bounce in Europe market (Heineken weighed after sliding more more than 6% on a profit guidance cut), though newsflow was altogether slow over the weekend.
A quick glance at earnings this morning: KBR's beat may give a bid to the engineering & construction sector today; Diamond Offshore numbers are mixed and may be tough to read across to the offshore drilling group prior to the call; Eagle Materials looks like a miss, talking about tight freight markets and higher costs, which could put pressure on some gypsum- and wallboard-exposed building material names.
But all eyes are on Caterpillar earnings, or more importantly what management does with guidance and whether they allude to what inning we are in the cycle (more on last quarter's "high water mark" comment below), in addition to any reports out of tech land given the recent carnage: Memory major Seagate hits this morning while KLA-Tencor is tonight (recall semicap equipment peer Lam Research called the bottom last week) in addition to Rambus and Samsung.
Shifting Sentiment in Tech
We're coming off two straight days in the red in which each session was the highest volume of any other in the month of July. You can blame Facebook, and Twitter, and a sympathy rollover in the rest of the tech sector (MLDIFANG -6.6% and S5INFT -3.6% in past two days) for a reversal back towards 2,800 on the S&P 500 and the 50-day moving average of 7,645 on the Nasdaq.
Sentiment on Wall Street had already shifted in some of the market's highest momentum names lately. Equity strategists from Morgan Stanley to RBC have been telling clients to allocate more defensively for weeks now. BofAML went so far as to recommend shorting the FAANGs after Facebook's flop, arguing that the breakdown suggests "cult leadership" is peaking. Twitter cratering more than 20% on Friday and sparking a massive selloff in all-things tech only strengthens the case against these high-fliers.
Fast forward to today, and caution still prevails as Morgan Stanley's Michael Wilson is sticking with his defensive rotation call. He sees Friday's move as a "sign of exhaustion" and sees a shift towards value as being more sustainable -- "Tech, Discretionary, and small caps remain exposed; Industrials may already be pricing in a turn" -- while Bernstein recommends trimming overall level of active risk as "high stock correlations will be a drag on active in the coming Qs as we think we are entering a phase of slowing growth."
But the tech blowups have been few and far between. Earnings as a whole continue to come in extremely strong -- ~88% beat on EPS with more than half of the S&P 500 having reported, with tech a relative standout (35 of 36 companies beat on the bottom line) -- and outside of the past couple days, the tape has remained elevated with the S&P 500 climbing almost 4% month-to-date.
Absent any other massive hiccups, the market should be in good position to test its record high from January in the near term. But we'll have to get through another heavy week of earnings and two major back-to-back tests to start off the week: 1) Caterpillar today, where a "high water mark" comment last quarter spooked the market into thinking a global machinery heavyweight is calling for a peaking cycle, and 2) Apple tomorrow, where all bets are off if they sandbag the quarter.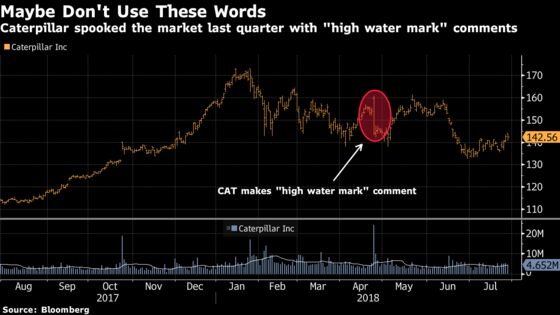 One thing this market has going for it is that the trade war tape bombs have subsided, at least for now. For example, a flurry of Trump tweets hit Sunday, especially one biting threat to shut down the government if "the Democrats do not give us the votes for Border Security."
But not one of them had to do with the topic of trade. In fact, there hasn't been a tweet about trade since last week's meeting with Juncker, and there hasn't been one specifically about the trade war with China in three weeks. We've barely heard a peep since Trump made that comment on July 20 about enacting import tariffs on $500 billion of Chinese goods, and the less that appears to be "ready to go," the better for this market.
JPMorgan strategist Mislav Matejka is upgrading emerging market equities (had downgraded the region in 4Q 2017) as investors now expect bad news on many fronts: Trade, China credit, possible recession in the U.S., politics, and global liquidity reduction.
Two sell-rated TSLA analysts, both with the same price target of $195, are weighing in this morning:
Goldman's David Tamberrino says a new data analysis based on social media sentiment points to "waning customer enthusiasm" for the Model 3
UBS's Colin Langan expects a "tough" 2Q for TSLA and says that abnormally high pricing may drive a temporary profit in 3Q, potentially setting up a capital raise
BofAML upgrades AT&T to a buy on a 20-year low P/E multiple, accretion from the Time Warner merger, and better than expected wireless business trends emerging. And Deutsche Bank has a self-proclaimed "contrarian call" out there, raising JNPR to a buy after Friday's 7.3% plunge.
Tick-by-Tick Guide to Today's Actionable Events
Today -- Mike Pompeo and Wilbur Ross will speak at Indo-Pacific Business Forum
7:00am -- SPG, BLMN earnings
7:30am -- CAT earnings
8:00am -- STX earnings
9:00am -- STX earnings call
10:00am -- Pending Home Sales
10:30am -- Dallas Fed
11:00am -- CAT earnings call
11:30am -- Treasury auction: $51b 3-month bills, $45b 6-month bills
2:00pm -- Trump holds presser after meeting with Italy's Conte
4:01pm -- ATHN, SBAC, NTRI earnings
4:03pm -- TXRH earnings
4:05pm -- RMBS, BKI, ALSN, ILMN, SPWR, AEIS earnings
4:15pm -- KLAC, BLKB, UNM, RE, AVB, RIG earnings
4:30pm -- OMF earnings
5:00pm -- RRC (roughly) earnings, KLAC earnings call
9:00pm -- China PMIs
9:00pm -- Samsung earnings