Bullish U.S. Bankers in Davos Contrast With Gloomy Europe Peers
To the banking titans gathered at Davos, the trans-Atlantic divide is growing ever wider.
Looking to expand their footprint, U.S. financial chiefs expressed nothing but optimism. The Europeans, meanwhile, were stuck grimly wrestling with the headwinds that have held them back for the past decade.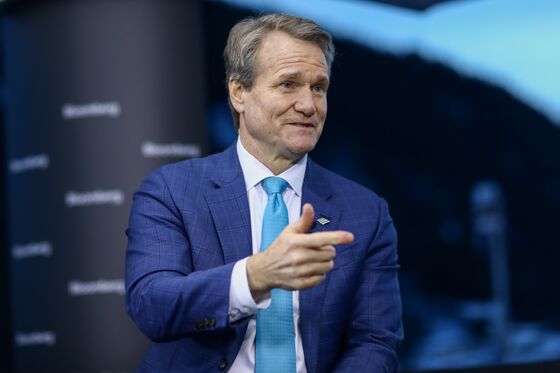 Europe and its banks will have to grapple with negative and low interest rates "for a sustained period of time," said Credit Suisse Group AG Chief Executive Officer Tidjane Thiam. He's only "moderately optimistic" about the economic outlook in Europe.
Contrast that with Bank of America Corp.'s Brian Moynihan, who said he wants to increase an already enormous market share among U.S. cunsumers. And Citigroup Inc.'s Michael Corbat, noting the pessimism at last year's World Economic Forum turned out to be overdone, was bullish on the outlook for credit cards and indicated he doesn't feel pressed to cut staff in his U.S. branch network.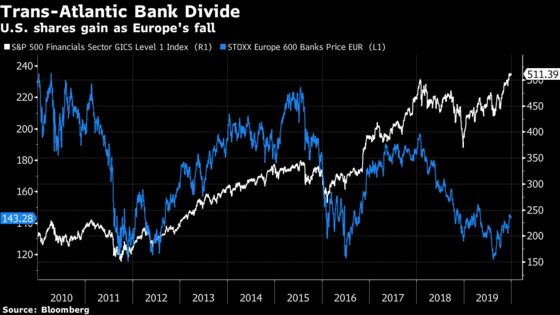 "My macro view is the world's chugging along pretty well," said Goldman Sachs Group Inc.'s David Solomon. He shrugged off WeWork's failed plan for an initial public offering that his bank advised on, and said he sees a low chance of U.S. recession.
Then there's JPMorgan Chase & Co., which reported the biggest profit in U.S. banking history -- $36.4 billion -- on the eve of the gathering of elites. President Donald Trump even gave the banks his personal kudos. CEO Jamie Dimon then flew to Davos and said the economy was in a "Goldilocks place."
At the world's biggest wealth manager, Zurich-based UBS Group AG, the focus is on reducing a $5 billion fine imposed by a French court for helping wealthy clients there stash undeclared funds in Swiss accounts, Chairman Axel Weber said. After missing key targets that were set in 2018, he added that UBS can't compete with large American firms in wholesale banking.
In the previous decade, the benchmark index of U.S. banks rose 164%, rebounding from the financial crisis. Europe's gauge fell 35%.
In 2019, Davos-goers saw bank mergers as a panacea for Europe. Weber told the Forum that European banking needed a reset in a market where scale was everything. Thiam agreed.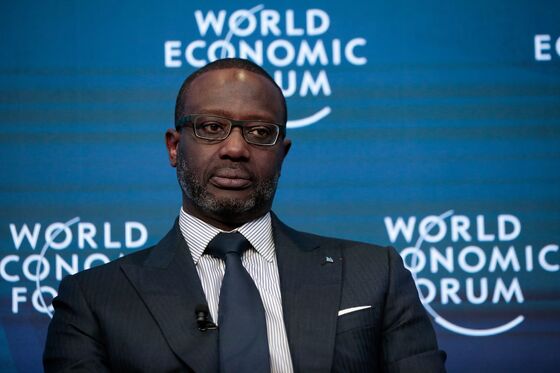 But a year later, nothing has happened -- except the implosion of Deutsche Bank AG's attempt to take over Commerzbank AG, which foundered amid public opposition and the challenges of executing a deal.
Consolidation "will happen, but it will take some time," Thiam said this year. "We still have a job to do to convince the public that larger banks can be safe and not endanger the whole economy."
Barclays Plc's U.S.-born CEO Jes Staley said he expects little movement across the European banking landscape, with firms focused on fixing their tech instead of mergers.
"We happen to be in a very benign period with relatively global stability and relatively strong economic growth around the world," said James Gorman, CEO of Morgan Stanley. "Obviously Europe is slower than the U.S."