Bulgaria to Stand Firm on Euro Adoption, New Premier Says
Bulgaria's new prime minister redoubled the government's commitment to adopt the euro in two years in the face of fragile support among voters battered by the force of the pandemic. 
In an interview, Kiril Petkov addressed the need to actively shore up backing for introducing the single currency following a failure of public messaging in the Covid-19 crisis. The comments were the first explicit euro pledge made by Petkov since the Harvard Business School alumnus and entrepreneur took office in December.  
Social divisions have hampered Bulgaria's efforts to fight the virus, leaving the European Union's poorest state ranked last in the 27-member bloc when it comes to vaccinating the population. A transition from Bulgaria's lev to the euro must also be treated with care and requires a full-scale public information drive, Petkov said. 
"This cannot be done out of the blue," Petkov, 41, told Bloomberg News in Sofia on Tuesday, reiterating a 2024 euro target date. "When it's not communicated well and then enforced or pushed on the population, there is always a risk of political turmoil that shouldn't be there."  
Petkov's fragmented four-party coalition is confronting a daunting agenda as Bulgaria emerges from a protracted political crisis marked by graft scandals, widespread distrust of public institutions and widening inequality. 
Saddled with per-capita output at just more than half the EU average, the government seeks to adopt the common currency to help the economy narrow the gap with richer peers in the bloc. 
But the public is divided. About half of Bulgarians think the introduction of the euro will have negative consequences, according to a July Eurobarometer survey. More than three-quarters are worried about abusive price-setting during the switch to the euro, the poll showed.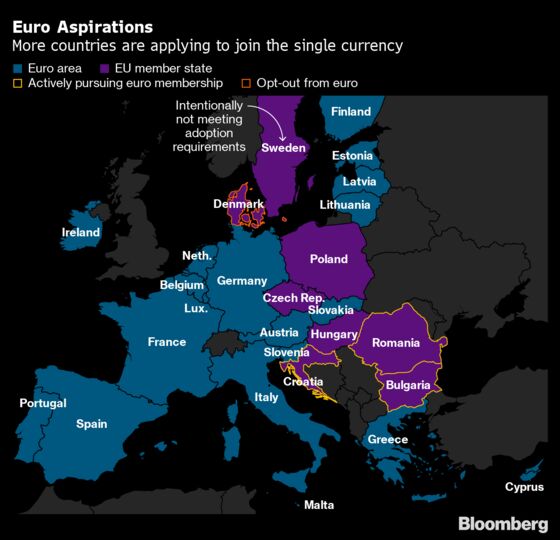 Fresh fears over inflation, which dogged the former communist nation in the decade after the collapse of the Berlin Wall, as well as concerns in EU member states over integrating less-developed peers, have delayed Bulgaria's progress on euro adoption.
Bulgaria has operated a currency board since the end of a banking and hyperinflation crisis in 1997, when about a third of its lenders collapsed, inflation topped 1,000% and people hoarded goods after many shops rejected the national currency. Petkov said the country will keep its existing lev-euro peg until the 2024 entry unchanged.
Almost two months after defeating Boyko Borissov's Gerb party in an election upset, Petkov reinforced his agenda to improve the efficiency of anti-graft bodies and impose a mechanism to increase scrutiny over the chief prosecutor after repeated criticisms from the EU. 
Progress may help the country join the EU's passport-free Schengen area in the next six months, an ambition long delayed by member states amid doubts over Bulgaria's law enforcement, he said.
"This coalition will stay in power for as long as we can maintain this zero tolerance on corruption," he said. "If we have a coalition partner that steps sideways and if this causes the government to fall, so be it."
He also pledged to fight the pandemic by increasing voluntary vaccination through campaigns, fiscal stimulus and the introduction of certificates for vaccination or previous illness in public administration. 
The task will prove difficult, with some of Petkov's coalition partners openly opposing the measure. 
"It's not a popular measure and we're losing political credit for this," he said. "But we don't care. It's important to be done for the people." 
The Black Sea nation has also been torn over relations with Russia, with which it shares cultural and economic ties -- including almost complete dependence when it comes to gas and nuclear fuel. 
Bulgaria's president, Rumen Radev, has repeatedly said sanctions against Russia over its annexation of Crimea are inefficient, while Defense Minister Stefan Yanev has rejected an increased NATO presence. Petkov has dismissed that stance as Yanev's "personal opinion." 
Petkov said his government will look for ways to fund infrastructure projects that "could help NATO's ability to have better logistics," including more bridges on the Danube river and road connections that will help link Greece and Romania, Bulgaria's northern and southern neighbors.