Bulgari to Focus on Local Customers as Covid Wipes Out Tourism
(Bloomberg) -- Bulgari is increasing its focus on sales to locals in the countries where it operates, particularly in China, as the pandemic wipes out the tourist market, Chief Executive Officer Jean-Christophe Babin said.
The LVMH-owned jeweler is seeing single-digit domestic sales growth in the western world and high double-digit growth in Asian countries, Babin said in an interview in Rome, ahead of the launch of limited series of Aluminium Tricolore watches on behalf of three Italian children's hospitals. In addition to China, countries like Korea and Russia are also doing well, he said.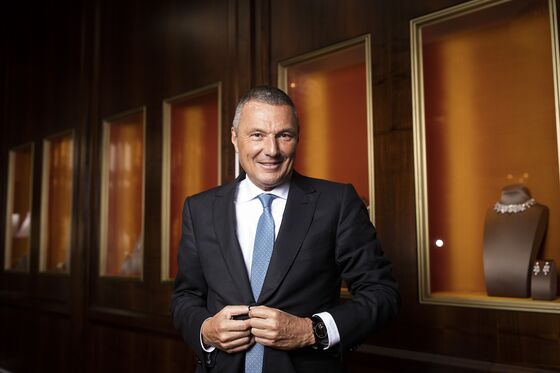 "Online shopping has been growing triple-digit in the last few months," while tourism has collapsed by the same degree, the CEO said. "We can expect travel retail to remain sluggish in the quarters to come, therefore our very strong focus on local clients will be intensified."
China is leading a rebound in luxury sales after largely eradicating the virus. With curbs on international travel, wealthy Chinese consumers are seeking comfort from retail therapy at home. Bulgari -- the Roman brand synonymous with some of the extravagant pieces Elizabeth Taylor wore on the set of Cleopatra -- will open five more shops in China in 2021.
Babin said he's confident Bulgari can recover most of the sales lost due to Covid-19 in two years.
"We won't see a return to 2019 levels next year, just because it will be hard to reabsorb a 100% loss in tourism," he said. "Luxury is very dependent on traveling and impulse spending."
Bulgari is sticking to a medium- to long-term plan to expand a line of luxury hotels, he said. The company will open one in Paris next year, one in Rome in a couple of years and its first U.S. hotel between 2023 and 2025. The goal is to have 15 to 20 hotels by 2030.
"Covid will make luxury even more desirable," Babin said. "When the crisis will be over, people will want to enjoy life more than ever."