Build-A-Bear Jumps, Breaks Hearts After Sale Mayhem
(Bloomberg) -- Hundreds of kids may be distraught over Build-A-Bear's failed promise, but investors are pretty happy.
The stock rallied as much as 11 percent Friday, the most since Feb. 20, after a promotional event forced the global retailer to shut down stores and cut off lines at locations in the U.S., Canada and the U.K. due to crowd safety concerns.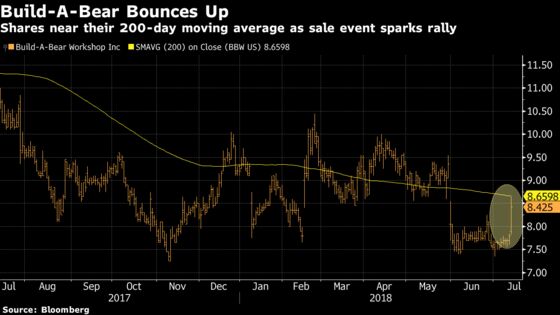 The "pay-your-age" event on Thursday allowed customers to buy a furry friend for the dollar equivalent of the person's age. But the event proved so popular, local authorities had to be called in to turn people away, according to a statement.
While the retailer drew criticism for upsetting parents and children who left bear-less, Jefferies analyst Stephanie Wissink says the event was "likely worth it" -- even if the day results in a slight loss or break-even -- because of the overall boost to awareness and tail traffic from vouchers.
As noted, the Saint Louis-based company distributed vouchers to families in line and created a new program for kids 14 and under to pay their age for a new Birthday Treat Bear during their birthday month.