Buffett, Sorrell Discussed Potential WPP Deal Six Years Ago
(Bloomberg) -- It was the deal that got away.
Berkshire Hathaway Inc.'s Warren Buffett and Martin Sorrell, former chief executive officer at U.K. ad giant WPP Plc, discussed a potential tie-up of the two companies in 2012, Sorrell said at a Campaign magazine event in London. The acquisition by Berkshire never happened because the two couldn't agree on price.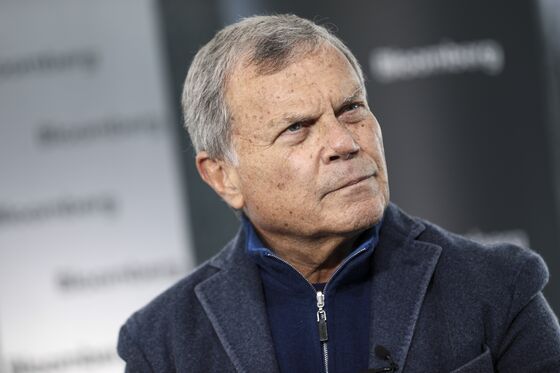 Buffett "was really interested in WPP becoming part of Berkshire," Sorrell said. "We had a brief conversation and he's very shrewd. He cuts to the quick. He's very fixed in terms of price and the premium he offered was not sufficient. It was about 15 percent, maybe a little bit more. The average premium was 30 percent, and we couldn't encourage him to go to 30. I would've loved to have done that if it had been at the right price."
Buffett and Sorrell were both interested in chatting "on an exploratory basis," Buffett's assistant, Debbie Bosanek, said in an email Thursday. She said that they weren't sure who initiated the talks.
Back in 2012, Buffett alluded to a massive deal that escaped his grasp because the parties couldn't come to an agreement. He didn't identify the company at the time and it's unclear whether he was talking about the potential WPP deal.
The billionaire investor offered 9.25 pounds per share for WPP, which wasn't enough, Sorrell said. WPP, which closed at 8.93 pounds a share on Thursday valuing it at 11.3 billion pounds ($14.7 billion), is down 33 percent this year over a slowdown in its North America business and on investor concerns that its sprawling network of agencies hasn't retooled to respond to shifts in the ad industry.
Sorrell took a maker of wire shopping baskets and grew it into the world's biggest ad group over three decades, with agencies including Ogilvy, Grey and J. Walter Thompson. He abruptly resigned from the company in April over an investigation into allegations of misconduct by the executive, but has denied any wrongdoing.
He had previously sought to play down any potential rivalry between his new venture S4 Capital Plc and WPP, but on Thursday took a dig at his former employer.
"The best form of revenge would be building a significant and successful new-era, new-format, new-approach agency," Sorrell said, after criticizing WPP's handling of the misconduct probe. "I want to build the best."