Buffett's NetJets to Buy 20 Supersonic Luxury Planes From Aerion
(Bloomberg) -- NetJets, the private-plane unit of Warren Buffett's Berkshire Hathaway Inc., signed purchase rights for 20 supersonic business aircraft from Aerion, a startup founded by Texas billionaire Robert Bass and backed by Boeing Co.
The deal lifts the backlog of orders for AS2 jets awaiting manufacture to more than $10 billion, with production set to begin in 2023 in Melbourne, Florida, according to a statement Wednesday from Aerion and NetJets. Aerion has sold 90 of the planes in total and is targeting 2027 for the first delivery, a company spokesman said.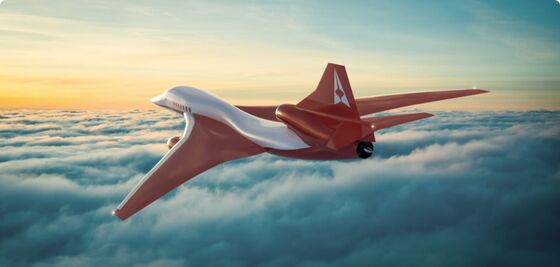 With the agreement, NetJets, which sells fractional ownership of business aircraft in exchange for flying hours, joins its smaller rival Flexjet as an Aerion jet buyer. Flexjet was the launch customer with an order for 20 planes in 2015. The AS2 will fly at 1.4 times the speed of sound, or a bit more than 1,000 miles (1,700 kilometers) per hour.
The AS2 is inching closer to becoming the first civilian supersonic aircraft since the Concorde was retired in 2003. Bass's dream of building a business jet capable of breaking the sound barrier got a boost in 2017 when General Electric Co. agreed to build an engine for the plane. Aerion, which broke ground in December at the Melbourne site, plans to make 300 of the aircraft over a decade.
Along with the NetJets order, FlightSafety International, an aviation training company also owned by Berkshire, has teamed up with Aerion to develop a supersonic flight training academy.