Buffett's Buyback and Other Key Takeaways From Berkshire Results
(Bloomberg) -- Warren Buffett's Berkshire Hathaway Inc. reported third-quarter operating profit that doubled amid strength across his swath of businesses, including the insurers, railroad and manufacturing companies.
Buffett's Been Buying Stock, Even Berkshire's
The billionaire investor gave us a glimpse about his appetite for purchases. He bought $12.6 billion of stocks, on a net basis, during the third quarter, the most in more than four years. He even snapped up some Berkshire shares -- repurchases that amounted to less than 1 percent of the company's cash but were "really important in terms of a signaling effect," said Jim Shanahan, an analyst at Edward Jones.
Now, October's market slide opens the door for Berkshire to finally make a dent in that giant pile of money.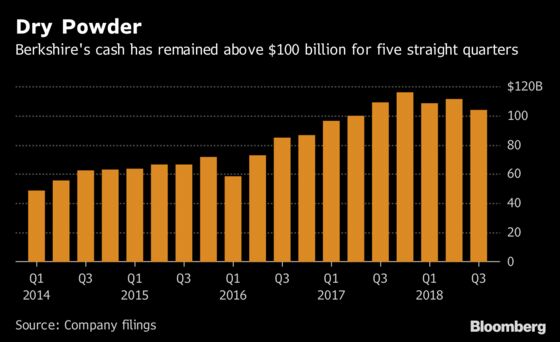 Berkshire's Insurers Faced Down Florence
Costs from catastrophes fell almost 90 percent from last year's third quarter, when hurricanes Harvey, Irma and Maria stung Berkshire's insurers. That fueled an underwriting profit, helping the businesses get back on track after a 2017 loss broke a 14-year streak of gains.
"Overall, it was a very strong quarter," said Cathy Seifert, an analyst at CFRA Research, with earnings rising in all of Berkshire's reporting segments. Operating profit climbed to $6.88 billion, up from $3.44 billion a year earlier.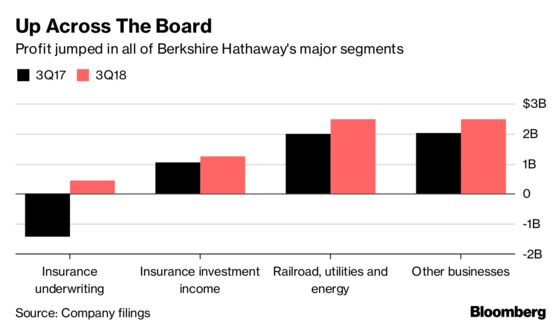 A New Mandate Means Buffett Was Busy Buying
Berkshire bought back $928 million in shares during the third quarter, taking advantage of a new policy that gives Buffett more freedom to decide when repurchases are worthwhile. The chairman has typically avoided buybacks in favor of spending money on deals and investments in other companies, but with more than $100 billion in cash, he's finding new ways to put some of it to work.
Buffett paid an average price of $312,806.74 apiece to repurchase 225 Class A shares. They have traded below that for much of the past two weeks, raising the question of whether Buffett will buy back even more of his company's stock.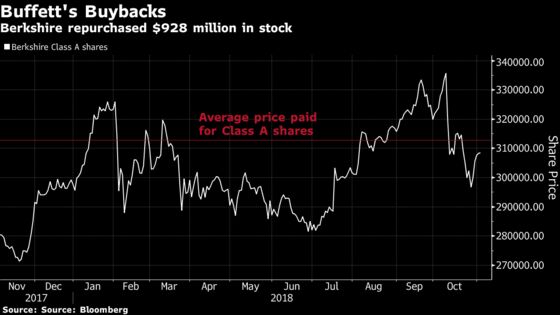 A New Accounting Rule Led to a Quadrupling in Net Income
Over the past few quarters, Berkshire's had to report swings in its more than $200 billion stock portfolio into net income. That meant the figure more than quadrupled in the quarter due to gains in the stock investments. Don't read too much into it: Buffett's warned that there could be wild variations because of the change.