Buffett Comparisons May Swell for Fund Manager After Big WWE Bet
(Bloomberg) -- A global equity fund whose manager has drawn comparisons to Warren Buffett in the U.K. press is outperforming rivals thanks to a 166 percent rally in World Wrestling Entertainment Inc. over the past seven months.
London-based Lindsell Train Ltd sits atop the holder list with 7.1 million shares at the end of March. This equates to almost 17 percent of the total outstanding shares, according to Bloomberg data.
The company has been in the stock since at least 2009, regulatory filings show.
Nick Train, who co-founded the company in 2000, has been called a "British Buffett disciple" by the Financial Times and the "U.K.'s answer to Warren Buffett" by retail stockbroker Hargreaves Lansdown.
His global equity fund has returned almost 9 percent year-to-date and more than 20 percent in the past year. The fund is beating 95 percent of its peers this year and has outperformed 98 percent in the past three years, according to data compiled by Bloomberg.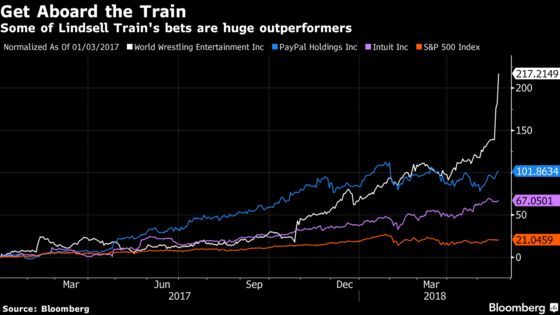 Lindsell's largest positions as a percent of the portfolio include PayPal Holdings Inc. and Intuit Inc., which have both been on a tear over the past year. The firm also has a stake of about 20 percent in professional sports club Manchester United Plc.
World Wrestling has soared 33 percent in the past three sessions, hitting a record Monday on reports that Fox will become the new home for "SmackDown Live," one of the company's signature programs.
Lindsell Train didn't respond to an email request for comment. The firm had $18.8 billion in discretionary assets under management as of January 31, according to an SEC filing.