Buffett and Dimon's Pleas to End Quarterly Guidance Haven't Taken, Yet
(Bloomberg) -- Warren Buffett and Jamie Dimon have called on companies to discontinue quarterly earnings forecasts. So far, corporate America has balked at the idea, although Apple suggested on Thursday it may be listening.
The two men co-wrote an editorial in June in which they urged companies to abandon the practice of providing quarterly earnings guidance.
The same number of S&P 500 Index members issued guidance for adjusted earnings per share in their most recently completed quarter as they did for the same period in 2017, 101 in total. Fewer companies, 57 in 2018 versus 61 in 2017, released guidance for GAAP earnings.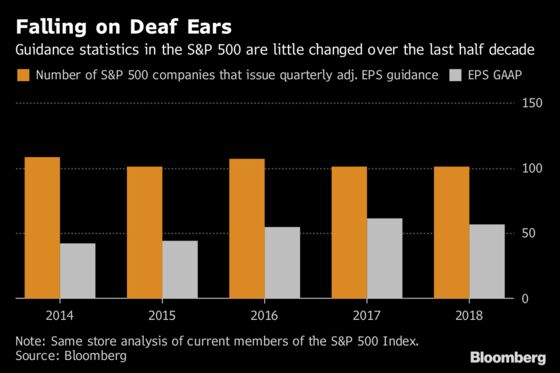 Dimon and Buffett wrote in the op-ed that the demand of meeting short-term earnings estimates has been partly to blame for the decline in the number of public companies in the U.S. "Short-term-oriented capital markets have discouraged companies with a longer-term view from going public at all, depriving the economy of innovation and opportunity," they said.
The editorial wasn't the first time the two billionaire chief executive officers have taken up this fight. They were among a group of financial industry executives who issued a report in 2016 that sought to end the practice of giving short-term earnings forecasts.
There may be signs that the largest companies in the U.S. are growing tired with quarterly reporting in general.
Recent entrants to the S&P 500 are eschewing the practice. Eleven companies in the index started trading after August 2014, only three of which provide quarterly earnings forecasts.
"As demonstrated by our financial performance in recent years, the number of units sold in any 90-day period is not necessarily representative of the underlying strength of our business," Chief Financial Officer Luca Maestri said.