BT Hires Outgoing Worldpay CEO to Restructure, Not Split Up
(Bloomberg) -- BT Group Plc named outgoing Worldpay Inc. head Philip Jansen as chief executive officer, turning to a corporate restructuring expert to overhaul the carrier after profit warnings and a clash with Britain's telecom regulator.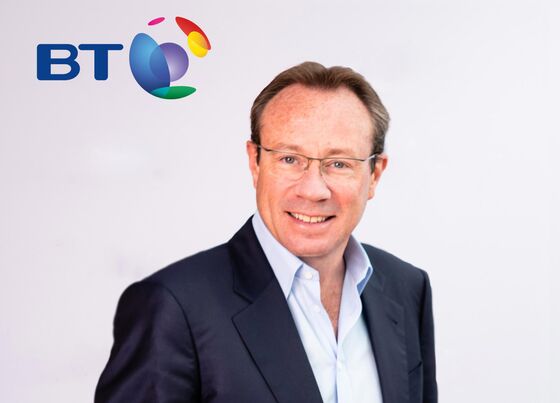 Jansen has his work cut out for him. Shares in the world's oldest phone company have lingered near six-year lows after an accounting scandal in Italy and declining earnings.
Chairman Jan du Plessis poured cold water on speculation that the appointment could lead to a full spin-off of wholesale arm Openreach -- which owns the majority of the U.K.'s fixed broadband infrastructure. The unit has been bound by state price controls and faces pressure from politicians and customers to boost spending on fiber. It was legally separated within BT over the past year and a half to enforce independence from retail operations.
Different ownership for the network unit doesn't make sense, du Plessis said in an interview Thursday. And, following long discussions with Jansen, "my sense is he would be inclined to agree," du Plessis added. "Whatever happens at BT in the next five years, I don't think deal-making will feature on our agenda in any way."
Shares in BT fell as much as 6.3 percent, the most since May 10, to 234.4 pence, a move Macquarie analyst Guy Peddy said was influenced by the chairman's remarks. Peddy said Openreach needs BT's consumer division to pay for its spending on building fiber.
"It's dashed hopes that there will be a dramatic re-think," Peddy said of du Plessis' comments. "He's absolutely right. It would be foolish."
Jansen, 51, will join the company Jan. 1 and will take over from Gavin Patterson a month later, the London-based company said in a statement Thursday. His top tasks will be cutting costs while investing in technology, such as the software to underpin future networks that will let customers move seamlessly between fixed and mobile services, said du Plessis. Patterson was ousted in June following a tumultuous couple of years.
Du Plessis said he's not had any contact with activist investor David Einhorn, whose Greenlight Capital LLC fund has taken a stake in BT. Einhorn is interested in the potential for splitting off Openreach, The Times reported.
Other strategic questions facing Jansen include the sustainability of BT's dividend, the financial commitments to spectrum and equipment for 5G networks, and the future of its beleaguered global services consulting arm. The appointment is a "a positive catalyst" and Jansen is well placed to drive BT's strategic transformation given his track record at Worldpay, Neil Campling, an analyst at Mirabaud, said in a note to clients.
With the help of executive search firm MWM Consulting, the selection was made by the company's nominating committee, which is headed by du Plessis and made up of most of the company's board except the CEO and CFO. The decision-making body includes Deutsche Telekom AG CEO Tim Hoettges. The German company is BT's largest shareholder, with a 12 percent stake.
Despite ousting Patterson, the board and du Plessis publicly backed his strategy and said the dividend is secure for two years. Du Plessis has steered several companies through tricky transitions: He was at mining giant Rio Tinto Plc during a commodity slump and a takeover attempt from rival Glencore Plc, and helped SABMiller Plc secure a higher price during its sale to Anheuser-Busch InBev NV in 2016.
While at the Ohio and London-based payment company Worldpay, whose U.K. headquarters sit down the road from BT's in London's financial district, Jansen oversaw its transformative $10.4 billion merger with rival e-commerce platform Vantiv, which was completed in January. He is co-CEO of Worldpay and was scheduled to step down at the end of the year.
He has shared close orbits with other key BT figures. The telecom giant's former chairman, Michael Rake, is lead director at Worldpay. And Jansen was previously the manager of Patterson at Telewest -- now part of Virgin Media -- according to advertising magazine Campaign. Both also worked at consumer products giant Procter & Gamble Co.
BT has fallen 34 percent in the past five years, compared with 15 percent for the Stoxx 600 Telecommunications Index. Its second-quarter earnings are due Nov. 1.