BT Profit Beat, Regulatory Reset Smooth Path for Next CEO
(Bloomberg) -- BT Group Plc offered investors some respite from a string of bad surprises as Britain's former phone monopoly searches for a new chief executive, reporting quarterly results that beat expectations.
BT shares were on track for their first earnings-day gain in six quarters after the company reported growth in its consumer business and outgoing Chief Executive Officer Gavin Patterson sought to draw a line under his tense relationship with industry regulators.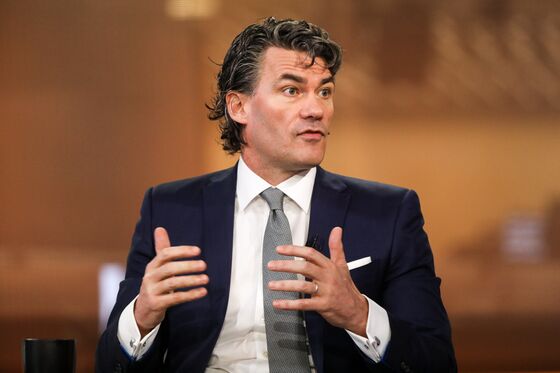 Investors have become wary of bad news from BT following successive outlook downgrades and writedowns. The carrier, trying to bounce back from an accounting scandal in Italy, has been trying to fix other issues, too: it's tackled spiraling sports rights costs, mitigated a massive pension deficit and made overtures to improve ties with watchdog Ofcom.
"After the troubles they've been through, I think this will probably help to reassure people," New Street Research analyst James Ratzer said by phone. "It looks like a solid start" to the fiscal year.
The results could be the last under Patterson, whose removal was announced in June just four weeks after he unveiled a revamped strategy that included 13,000 job cuts but no meaningful profit growth for three years. BT shares were down 17 percent year to date, through Thursday.
The heavily regulated company's fortunes hang partly on its dealings with Ofcom. As Patterson moves toward the exit, there are signs the two are finally seeing eye-to-eye over the industry's future, with both sides backing a faster fiber broadband buildout.
As the chief custodian of Britain's telecom infrastructure, his successor will need to balance the demands of shareholders with government pressure to boost spending on full-fiber lines -- an area where the country lags other leading economies.
The government this week published a telecom infrastructure review and BT, after years resisting the call for more urgent investment, got on board with an offer of discounts for rival communication providers to get their customers onto faster broadband services.
"It's certainly been a busy quarter, but in many ways, and in particular the last week, it's been one of the more pivotal ones in my time as chief executive," Patterson said on a call with reporters. He said the government and Ofcom had offered a clearer path to a stronger broadband network.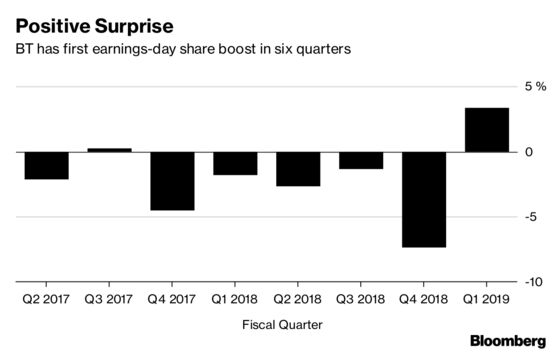 BT's fiscal first-quarter adjusted earnings before interest, taxes, depreciation and amortization rose 1 percent to 1.8 billion pounds ($2.36 billion), beating the 1.73 billion pound average of five estimates compiled by Bloomberg. Adjusted sales fell 2 percent to 5.72 billion pounds, roughly in line with expectations.
The company has been cutting the prices it charges rivals to access its broadband network. That was offset by growth on the consumer side, as BT raised tariffs and introduced new bundled services.
It kept capital spending broadly flat in the quarter, compared with the prior year, and costs fell as it pushed through the restructuring, with 900 employees leaving the company so far.
The shares rose as much as 4.5 percent and were up 3.7 percent at 10:19 a.m. in London.
Some analysts voiced caution on the numbers, which also showed a fall in adjusted revenue in the wholesale business and at BT's struggling global services arm.
BT's move to stop breaking out separate subscriber numbers for broadband and mobile was greeted with frustration on an earnings conference call, with analysts calling for more clarity on where the growth was coming from.
"We should have been more vocal about our dismay at BT's decision to stop reporting retail broadband lines," said Dhananjay Mirchandani, an analyst at Bernstein. "We thought we could do without the data – and we genuinely cannot."
Patterson said BT was making preparations in case the U.K. crashes out of the European Union without a deal on a future trading relationship: "We're making preparations for all scenarios including that we have a hard Brexit," he said. "We think we can manage that from a data perspective and we've put that plan in place."