Brussels Edition: Sweden in a Stew
Barely two weeks after Sweden's national election produced a virtual dead heat between the country's two political blocs, Prime Minister Stefan Lofven probably will be ousted in a confidence vote today. That could trigger a long process of new coalition talks that may well end up in failure and snap elections. The back-and-forth shows how the surge of nationalist parties across the EU can cause trouble and lead to political paralysis even when the anti-establishment challengers fail to win the vote. This scenario could unfold at a continent-wide scale in next May's European elections. 
Latvian Hearings | The ECB, Latvia and the nation's central bank governor, Ilmars Rimsevics, will have a face-off in front of the EU's highest court today that could decide whether restrictions imposed on the embattled Governing Council member violate EU law. The hearing is the next step in a saga that has rocked Frankfurt and the Baltic state. The ECB scored a victory in July when it got an EU court order forcing Latvia to allow Rimsevics, the target of a bribery probe, to name a substitute to participate in meetings. 
Starting Over | Diplomats in Brussels are trying to work out the consequences of the political fireworks at the Salzburg summit on the day-to-day technical Brexit talks. "I didn't know before and know even less now," said one official close to the negotiations about how Brexit is going to end up. Dates haven't been fixed yet but U.K. Brexit Secretary Dominic Raab may make another trip to the European Commission this week as all sides strive to start afresh.
Trade Talks | Top trade officials from the EU, the U.S. and Japan will meet in New York today to discuss ways to dismantle some of the Chinese practices at the heart of the U.S.-Sino trade conflict. Following the meeting, which will focus on how to reform the World Trade Organization and better ensure a level playing field, the trade triumvirate is expected to release a joint statement that outlines the mutual goal of countering "non market-oriented policies and practices."
Brexit Hurdles | Lawmakers in the European Parliament late yesterday voted in favor of new hurdles for U.K. banks seeking business in the EU after Brexit. Foreign financial firms would have to set up shop in the bloc before offering certain kinds of services if the rules go through as planned. That's not a given, as they probably face another few months of debate with national governments.
Draghi's Plea | Mario Draghi made the euro jump to its highest level since June yesterday after saying he sees a "relatively vigorous" pickup in underlying euro-area inflation. It was seen as a signal that the European Central Bank he presides over is well on track to raise interest rates late next year. Speaking to the European Parliament, Draghi reiterated the ECB's call for a single European authority to tackle money laundering, a problem that has burst into prominence this year in Latvia and Estonia.
How We Got Here | Meanwhile, speaking about his native Italy, Draghi said that the populist rhetoric by Italy's new government is driving up borrowing costs for households and companies even before the cabinet approves its first budget law. To see how Italy got to the point where it is today, look no further than here. 
Polish Saga | The EU sued Poland over its Supreme Court revamp in a fast-track process, escalating a standoff over the country's sweeping judicial changes that it says breach democratic values. The confrontation epitomizes struggles across the EU as populists challenge the bloc's standards, raising alarms over the erosion of democratic norms and the EU's difficulty in finding an effective way to react.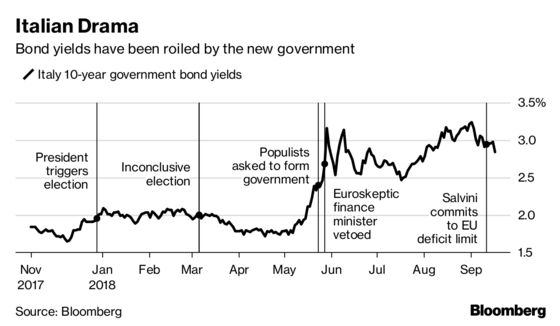 Italian bond yields rose again yesterday, as the bond market is taking the Italian government's promise to respect the EU's fiscal rules with a pinch of salt. This despite the Italian president's efforts to temper the more extreme impulses of the populist government. Pimco and Aberdeen are staying either short or underweight on Italy's debt, while Societe Generale recommends investors position for a sell-off over the next two weeks, after this month's rally.
9:30 a.m. EU top court hears arguments from the ECB and Governing Council member Ilmars Rimsevics in challenges against Latvian restrictions imposed on the central banker 
11 a.m. Eurostat to release data on asylum applicants in the second quarter of 2018
1:15 p.m. Press conference following informal meeting of EU agriculture ministers in Austria
2:45 p.m. EU competition chief Margrethe Vestager gives speech at Georgetown Law conference in Washington
UN General Assembly opening reception
EU Council President Donald Tusk holds meetings in New York with President of Ukraine Petro Poroshenko, President of Kosovo Hashim Thaçi and UN Secretary-General Antonio Guterres
U.S.-EU-Japan trilateral meeting in New York between EU Trade Chief Cecilia Malmström, U.S. Trade Representative Robert Lighthizer and Hiroshige Seko, Japan's Minister for Economy, Trade and Industry, to discuss WTO reform and issues related to "leveling the playing field" in international trade
Like the Brussels Edition?