Brussels Edition: Surveying the Slowdown
(Bloomberg) -- Welcome to the Brussels Edition, Bloomberg's daily briefing on what matters most in the heart of the European Union.
The European Central Bank holds its first policy meeting of the year, with officials discussing what the euro zone's economic slowdown means for its plans. President Mario Draghi is likely to be challenged in his press conference on whether an interest-rate increase is still possible this year – investors say probably not – and whether fresh support such as new long-term bank loans are needed. — Paul Gordon, Nikos Chrysoloras
Protecting Trade | EU trade chief Cecilia Malmström joins a World Economic Forum debate in Davos this morning to discuss economic nationalism and protectionism. Malmström will likely reiterate that the EU seeks global commercial peace, a day after her deputy warned the bloc is ready for war, should U.S. President Donald Trump follow through on a threat to impose duties on European cars and auto parts. 
Deutsche Hearing | The European Parliament's special committee on financial crime is taking the unusual step of devoting an entire session to a single bank's legal troubles. So Feb. 4 will provide an opportunity for Deutsche Bank to explain itself in Brussels after attracting the attention of the Federal Reserve, which is examining Deutsche's involvement in the Danske money-laundering scandal.
Macedonian Compromise | Greece's parliament will probably approve the compromise between Athens and Skopje over the use of the name Macedonia tonight, paving the way for the accession of the former Yugoslav republic to NATO and – eventually – the EU. Prime Minister Alexis Tsipras, having just survived a confidence vote, looks like he'll get the backing of at least 153 lawmakers in the 300-seat chamber when they vote on the accord.
Brexit Delay | It's another groundhog day for Brussels, still waiting from the U.K. to clarify its plans for Brexit. While momentum towards an extension is building on both sides of the Channel and the risk of a abrupt withdrawal appears to have receded, the question is what a delay would achieve. 
Vests Upgrade | France's Yellow Vests now have their sights set on political power. Members of the protest movement are preparing a run for European parliament as the 'Citizen's Initiative Rally' in a move that could challenge Marine Le Pen's grip on populist voters. Ingrid Levavasseur, a health-care aide from Normandy, would head the party's list for the vote on May 26. 
Leaving  London | The U.K. parliament can't agree on how to leave the EU, but many finance firms have already decided how much money to move out of the City of London -- a shift that's seen by some as irreversible. While the banks have mostly chosen Frankfurt, the trading venues and the algorithmic traders that provide much of their volumes have mostly gone to Amsterdam. 
Coal Exit | Germany's plan to shut down dozens of power plants burning coal over the next couple of decades is uniting traders and analysts on one thing: price swings in markets from power to natural gas and carbon allowances are poised to increase. Europe's biggest economy, already set to miss its 2020 target to cut carbon emissions, will start to phase out the fuel to help meet the bligations under the 2015 Paris Agreement against climate change.
Communist Sneakers | In East Germany, Zeha was pretty much the only sports shoe available, as the likes of Adidas, Puma, and Nike came from the other side of the Iron Curtain. Now, the communist sneaker is making a comeback, benefiting from nostalgia for the brand and a guarantee of German craftsmanship (though it's actually made in Portugal). 
Sauna Secrets | Obscured by pine trees and next to a secluded reservoir, a sauna cabin in Latvia may seem like a sufficiently isolated spot to hold a private meeting. The businessmen and politicians who made that assumption may now be sweating again, as secret recordings from the cabin in the woods have added to the intrigue of Latvia's continuing battle with corruption.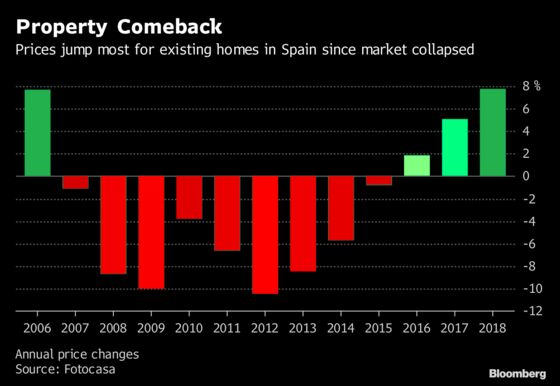 Prices for existing homes across Spain jumped in 2018 by the most in at least 12 years, as the country continued recovering from one of Europe's worst property crashes. In a market famous for its vacation homes and increasingly targeted by buy-and-rent investors, the turnaround gained strength through a combination of economic expansion and an easing of credit terms, in addition to a persistent lag in new supply and, recently, a flood of investors.
9:15 a.m. EU Trade Chief Cecilia Malmström joins WEF panel on economic nationalism
9:30 a.m. EU top court hears appeal arguments by Lundbeck and Generics against a lower EU court's ruling in 2016 to reject their bid to annul a European Commission decision to fine them over pay-do-delay drug deals
2:30 p.m. Mario Draghi press conference, following ECB Governing Council in Frankfurt
EU Commission President Jean-Claude Juncker receives Abiy Ahmed, Prime Minister of Ethiopia