Brussels Edition: Stability Risks
(Bloomberg) -- Welcome to the Brussels Edition, Bloomberg's daily briefing on what matters most in the heart of the European Union.
European Central Bank Vice President Luis de Guindos will present the institution's biannual assessment of financial stability across the bloc, and it's unlikely risks have diminished in light of emerging-market tensions, concern over debt-sustainability in Europe and questions over the longevity of the U.S. upswing. Data releases today also provide ECB policymakers with an update on the health of the euro area, two weeks before a crucial decision on whether to cap asset purchases.
Italian Steps | Senior EU finance ministry officials hold a call to endorse the EU Commission's assessment that Italy is in breach of debt rules and that an excessive-deficit procedure is warranted. The widely anticipated endorsement paves the way for a disciplinary process, which needs sign-off from finance ministers in January and could lead to fines. Meanwhile, Italian Finance Minister Giovanni Tria said the government must take into account the fears of Italy's European partners and investors.
Brexit's Back | Brexit is back on the Brussels agenda. The EU's chief negotiator Michel Barnier updates the European Parliament at 9 a.m. before lawmakers debate the latest. But the focus remains on London as Prime Minister Theresa May battles to get the deal accepted.
Emission Standards | EU ambassadors are set to agree to notify the International Civil Aviation Organization on key differences between EU regulation and CORSIA (short for: Carbon Reduction and Offsetting Scheme for International Aviation). By doing so, EU countries will ensure they won't replace the bloc's existing emissions regulation with CORSIA, a step that would put their airlines under the same standards as international competitors. Adopting the global standard has been the position of the U.K., which wants a global airline carbon market post-Brexit.
Swiss Court | Your move, Bern. The EU reiterated its threat to pull the plug on Swiss stock trading at the end of this year unless the country endorses a framework economic partnership agreement to replace the patchwork of mini deals currently governing bilateral ties. The Swiss government meeting on Friday is a key event to watch this side of the Alps.
Not So Stable | Back to the topic of financial stability, Unicredit sold debt this week at a borrowing cost comparable to that of a credit card, underlining tensions in credit markets. If creditors demand a pound of flesh from the biggest and strongest lenders, whither the weaker banks, not just in Italy, but also in Greece, should they need to raise funds? While the EU lauds Greece's return to normalcy, the country's bank stocks continue hovering around historic lows.
Expedited Ruling | The EU's top court said one of its advisers would issue a non-binding opinion on Dec. 4 on how the Brexit process could be reversed.  The decision to react "at the speed of light" would pave the way for a full ruling from the tribunal in the same month — potentially even before the U.K. Parliament's key Dec. 11 vote on the Brexit deal.
German Intervention | Germany called on Kosovo to end a trade war with Serbia, signaling resurgent European concern about Balkan tensions that threaten years of reconciliation efforts. Germany publicly entered the fray after Serbia, which opposes its neighbor's recognition as an independent state, led an effort to deny Kosovo a seat at Interpol. Kosovo responded last week by taxing imports from Serbia at 100 percent.
Danish Charges | Danish prosecutors filed four charges against Danske for the case involving possible money laundering at its Estonian branch. Denmark's biggest bank has admitted that much of about $230 billion that flowed through its tiny Estonian unit may need to be treated as suspicious. The bank is under criminal investigation by the U.S. Justice Department and may be facing billions of dollars in fines. 
And...Danish Dinners | In brighter Danish news, if you visit the nation's capital next year, Bloomberg Pursuits has a suggestion for you: a 50-course meal stretching over six hours, in what promises to be an extrasensory culinary experience. It will probably cost you as much as a visit to a paradise Danish outpost we also highly recommend.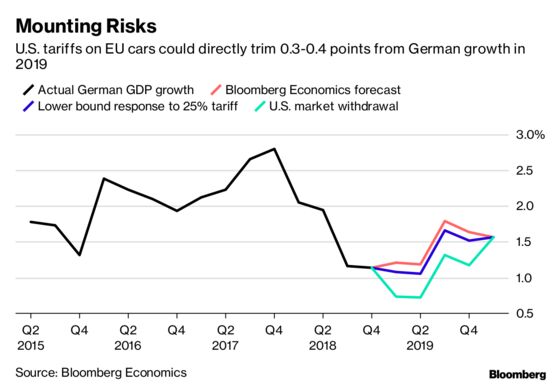 If the fragile trade truce between Washington and Brussels breaks down, Germany would be among the EU countries most exposed to fresh car tariffs. Bloomberg Economics estimates American consumers switching to lower-cost alternatives in the U.S. market could directly trim between 0.3 and 0.4 percentage points from Germany's growth in 2019.
8 a.m. European lawmakers hold breakfast discussion on Google cases
9 a.m. EU chief Brexit negotiator Michel Barnier speaks to European lawmakers in Brussels
MEPs in Brussels will vote on an update of the Schengen Borders Code, establishing the conditions upon which EU member states can temporarily carry out checks at internal borders.
MEPs will review and vote on the progress made towards possible EU accession by Serbia, the Former Yugoslav Republic of Macedonia, Albania, Kosovo and Montenegro
EU Commission President Jean-Claude Juncker is in Buenos Aires. Together with European Council President Donald Tusk, they meet Argentina's President Mauricio Macri and participate in G-20 Summits
EU competition chief Margrethe Vestager delivers a speech in Paris at the 2018 Global Forum on Competition, organized by the Organisation for Economic Co-operation and Development; she also meets France's Prime Minister Edouard Philippe