Brussels Edition:  Shooting Blanks
(Bloomberg) -- Welcome to the Brussels Edition, Bloomberg's daily briefing on what matters most in the heart of the European Union.
Europe's efforts to make its voice heard beyond its shores are falling flat. Disagreements this week within the bloc over Venezuela, sanctions and migration have rendered useless efforts for a united stand on key foreign policy dossiers, including a landmark nuclear treaty. National allegiances overrode attempts to present a common front, with one diplomat noting that the thread linking most of these cases is Russia's strategic interest.  Matters may become even more complicated after May's European elections, in which populists like Italy's League party are projected to gain significant ground, making consensus even more complicated. 
May's Trip | U.K. Prime Minister Theresa May will travel to Northern Ireland today, as her ministers step up efforts to find alternative arrangements for the post-Brexit Irish border. With time to secure a divorce agreement with the EU running short, May is expected  to return to Brussels at some point to try and rewrite the most difficult chapter in the draft accord — the Irish border backstop. 
Italy Data | After falling into recession at the end of 2018, Italy's hope for an economic pick up may be dealt another blow today. PMI data will probably show that the country's private-sector economy contracted in January. Meanwhile, tensions between Italy's populist allies, the League and the Five Star Movement, are intensifying, with Deputy Premiers Matteo Salvini and Luigi Di Maio fighting a two-front battle over an Alpine rail link and a legal case involving Salvini.
Greed Tax | Romania's government asked the central bank to help it effectively eliminate a so-called greed tax on banks after the levy prompted the country's worst market rout since the global financial crisis. The ruling Social Democrats drew rebuke from central bankers who said the tax, introduced to help keep the budget deficit within EU limits and curb interest rates on loans, may harm the financial system and undermine monetary policy. 
Weidmann's Comeback | In the race to succeed Mario Draghi as European Central Bank president, Germany's one-time favorite could stage a comeback. Bundesbank President Jens Weidmann was until recently seen as an unlikely pick to lead the euro zone's central bank. Yet Germany's decision not to propose a replacement for ECB chief economist Peter Praet and a surprise statement by Italy's finance minister that he was open to the prospect of the Bundesbanker at the helm may be signs that he is still be in the game. 
Competition Backlash |  The European Commission's likely rejection of the Siemens-Alstom merger is generating a political backlash in Paris and Berlin against the region's independent competition regulator. French Finance Minister Bruno Le Maire called for a policy overhaul to make it easier for the region's companies to take on aggressive Chinese rivals, while German Chancellor Angela Merkel talked of loosening EU rules. That's raising concern laws may be rewritten in the face of mounting global protectionism.
Macron's Gamble | Emmanuel Macron's ministers are trying to persuade him not to hold a referendum in France this year, after the president floated the idea of using European elections in May to also ask voters to endorse his reforms and draw a line under the Yellow Vest revolt. Macron is being advised not to mix domestic issues with the EU vote, which could blur the campaign message. 
Tech Praise |  Tech giants from Facebook Inc. to Google's YouTube won approval from the EU for  tackling hate speech posted online —  avoiding the need, for now, of laws forcing them to act. Twitter Inc., Facebook's Instagram, Microsoft Corp. and Snapchat are also among nine companies that signed up to a code of conduct with the European Commission to handle hate speech notifications within 24 hours. The EU said yesterday that this now happens 89 percent of the time.

Norway's Fight | The deal that gives Norway unfettered access to Europe's massive free-trade bloc is increasingly being derided and has come under legal attack from EU skeptics and labor unions who are questioning its impact on wages, labor laws and sovereignty. A high-stakes fight is brewing, Sveinung Sleire reports.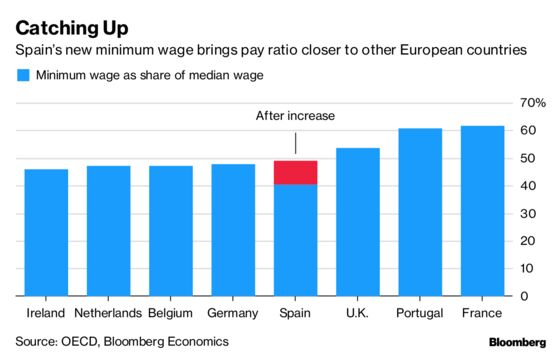 The Spanish government's decision to raise the national minimum wage by 22 percent in January is a progressive measure -- the country's low-paid workers currently get significantly less than their peers in the rest of Europe. Bloomberg Economics anticipates that the increase will spill over, with declining strength, to all employees earning up to 50 percent above the minimum wage. That would threaten Spain's international competitiveness, which has been painfully restored since the financial crisis.
8 a.m. European Security Commissioner Julian King speaks at Brussels event about the fight against terrorism, illegal terror content online, disinformation and threats facing Europe's elections 
9 a.m. European Commission President Jean-Claude Juncker gives Brussels speech for "EU Industry Days" 
9:30 a.m. Transparency International event on the Eurogroup's accountability
10:00 a.m. ESM Chief Economist Rolf Strauch speaks at OECD workshop in Paris about "advancing new tools for the EU budget to foster crisis management and economic convergence"
11 a.m. Eurostat to release retail trade reading for December
EU top court adviser gives non-binding opinion in dispute with U.K. over export certificates for the import of aluminum from Anguilla 
EU Commission Vice President Valdis Dombrovskis speaks at Responsible Banking Principles Workshop 
EU foreign policy chief Federica Mogherini meets Saudi Foreign Minister Adel Aljubeir in Brussels