Brussels Edition: Seeking a Trade Reset
(Bloomberg) -- Welcome to the Brussels Edition, Bloomberg's daily briefing on what matters most in the heart of the European Union.
Stimulus Debate | Policy makers at the Bank of England, one of the few major central banks not to join global monetary easing last year, will get a deluge of data in coming days that could inform their stimulus debate. Though the U.K. finally agreed on a Brexit deal, there's still the huge hurdle negotiating future trading arrangements with the EU and a risk that a lack of clarity may damp activity.
Economic Clues | In the rest of Europe, this week could also offer some clarity on the state of the region's economy. Germany's statistics office will put a number on GDP for 2019, a year that saw the economy slammed by a manufacturing recession, while investors will look for clues in the account of the ECB's December policy meeting — the first one chaired by President Christine Lagarde.
Finnish Ruling | Should banks be forced to accept a client who could be on the wrong side of the law? A court in Finland will answer that question today and its verdict may have far-reaching implications. A Russian billionaire is suing four Nordic banks for not doing business with him in a case that could set an important precedent against a backdrop of money laundering scandals in the region.
Irish Poll | Ireland's Prime Minister Leo Varadkar indicated a general election will be held shortly, though he didn't reveal a date. The campaign is likely to be testy, with Varadkar expected to highlight his role in winning a Brexit withdrawal deal that keeps the Irish border invisible, while facing criticism over a housing crisis and floundering health-care system.
Shared Goals | After more than three hours of talks in Moscow, Vladimir Putin and Angela Merkel found common ground over peace efforts in Libya and on upholding the nuclear pact with Iran that the U.S. ditched. While their strategic interests differ, both leaders say they want to curb Libya's factional fighting and complete the Nord Stream 2 natural-gas pipeline, in defiance of U.S. sanctions.
Glimmer of Peace | Libya's warring factions, meanwhile, have embarked on a tenuous cease-fire in a nine-month war that has drawn in Russia and Turkey on opposite sides. The dramatic move followed calls by Putin and Recep Tayyip Erdogan for an end to hostilities, and comes as Germany plans to host a Libya summit this month to enforce a UN arms embargo flouted by the backers of the rival factions.
French Compromise | The French government signaled it's prepared to scrap an effort to raise the age at which workers can retire with full benefits to 64 in a bid to get moderate unions on board with Emmanuel Macron's reform plan. The potential compromise is an attempt to defuse a situation that's resulted in mass transport strikes in major cities for several weeks.
Spanish Healing | Spanish Prime Minister Pedro Sanchez vowed to heal the divisions that have paralyzed domestic politics after he succeeded in forming a government to break nine months of gridlock. But he remains vulnerable to deep disagreements about how to handle Catalonia's push for sovereignty and will need to preserve relations with his coalition partner.
Polish Protests | Polish judges protested on Saturday against legislation that envisions penalties for critical justices and has fueled further tensions between the ruling party and the EU. Judges dressed in togas walked silently from the Supreme Court to the Parliament after the lower house passed legislation last month in yet another demonstration of  defiance against Brussels.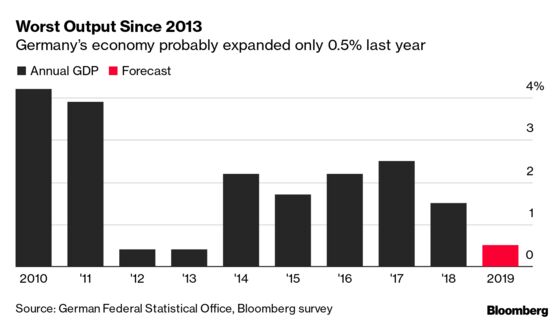 Germany's economy probably grew at the weakest pace since 2013 last year, as carmakers to machinery manufacturers were hit by trade tensions and the U.K.'s impending exit from the EU, an official report is expected to show Wednesday. Still, buoyed by record-low unemployment, German consumers picked up some of the slack, preventing the economy from falling into recession.
12:10 p.m. EU Commission President von der Leyen in Luxembourg, holds joint press conference with Prime Minister Bettel

Von der Leyen and College of Commissioners take official oath of office at European Court of Justice

EU Parliament Plenary in Strasbourg

Brexit Working Party meets in Brussels to discuss framework for talks on future EU-U.K. ties

Working Parties of EU diplomats meet in Brussels to discuss situation in Gulf and North Africa

EU Foreign Policy Chief Borrell in Pau, France for G5 Sahel summit; EU Council President Michel participates in working dinner with French President Macron and African Leaders

Belgian coalition talks progress, MR's Bouchez and CD&V's Coens due at royal palace