Brussels Edition: Saving the WTO
(Bloomberg) -- Welcome to the Brussels Edition, Bloomberg's daily briefing on what matters most in the heart of the European Union.
President Donald Trump has repeatedly questioned the relevance of the World Trade Organization, threatening to take the U.S. out of the multilateral body if it doesn't "shape up." EU trade chief Cecilia Malmstrom will today set out to show why America should stay. The bloc's  proposals for reforming the WTO will include making negotiations more flexible, making dispute settlements more transparent and shrinking trade costs. Following a gathering in Geneva on Thursday, where the Canadian government will present its vision for the WTO, Malmstrom will meet with officials from the U.S. and Japan in New York next week to work on a joint proposal to strengthen the trade body.
Trump Tariffs | Speaking of world trade, the U.S. president's administration has announced it will impose a 10 percent tariff on about $200 billion in Chinese goods next week and more than double the rate in 2019, deepening what's shaping up to be a prolonged trade war between the world's two biggest economies.
Polish Stand | Poland's rule of law — or lack thereof — will be back in the spotlight at a meeting of European Affairs ministers today. Don't hold your breath for a breakthrough. Warsaw is sticking to its claim that judicial reforms are the exclusive purview of national governments. EU Commission VP Frans Timmermans will reiterate concerns about Poland's slide down the slippery slope of authoritarianism and may suggest the European Court of Justice look into the matter.
Before the Storm | Ministers will also catch up on Brexit with the bloc's chief negotiator, Michel Barnier — once the U.K. contingent has gone home following discussions on Poland and other matters. While the summit in Salzburg this week may provide some political fireworks, the ministers want to go over the substance of the talks, which are still at an impasse.
Iran Clash | In Vienna, diplomats are set to continue to clash over the future of the Iranian nuclear deal at the annual meeting of the International Atomic Energy Agency. Iran warned yesterday that unless Europe stands up to U.S. attempts to scuttle the accord, more instability will creep into international markets.
Irish Taxes | Ireland may be asked to drop its opposition to wide-ranging corporate tax reform in return for the bloc's backing on Brexit, we have learned. Solidarity doesn't come for free, according to a European official, suggesting at least some nations expect a price to be extracted for the bloc's commitments to Ireland in the Brexit process.
Irish Luck | After years of being the only founding euro zone member never to hold a top ECB job, Ireland may be in the running for not one but two posts at the central bank. Deputy central bank governor Sharon Donnery is seen as a favorite to become the bloc's top banking supervisor while her boss, Governor Philip Lane is a key contender to join the ECB Executive Board next year. While getting both spots may be a long shot, bagging at least one is looking good.
Clear Guidance | Does the European Central Bank need to give clearer guidance on the pace of interest-rate increases once it eventually starts tightening policy? Executive Board member Benoit Coeure thinks so. Coeure said in Berlin yesterday that the complex policy environment — with the central bank's balance sheet bloated by its asset purchases and the uncertain dynamics of inflation since the financial crisis — means past strategies such as signaling rate hikes a month or two in advance may no longer be appropriate. 
IMF Warning | The International Monetary Fund added its voice to calls for U.K. Prime Minister Theresa May to strike a Brexit deal with the EU, warning that a disorderly departure would inflict "substantial costs." Such an exit would cause the British economy to contract, weaken the pound and push up the budget deficit, Managing Director Christine Lagarde cautioned.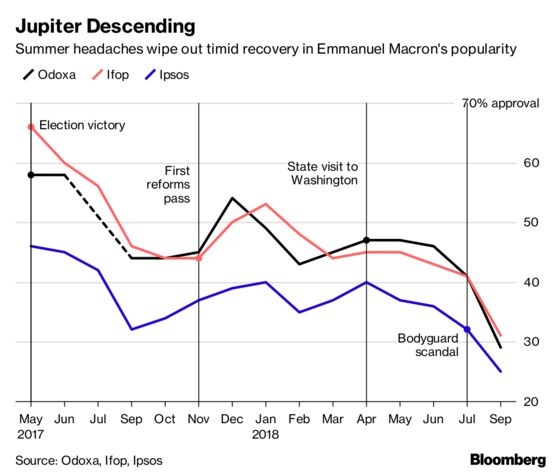 Economic growth in France has slowed and unemployment has barely budged since Emmanuel Macron's stunning election victory. Perhaps worst of all for the political prodigy, a breach has opened up between him and his voters as he prepares to tackle the toughest of all his reforms — modernizing the public pension system. In the second year of his presidency, Macron is now more unpopular than his hapless predecessor Francois Hollande.
8:45 a.m. The GSMA holds its annual conference where EU commissioners Magrethe Vestager and Mariya Gabriel will speak
9:15 a.m. ECB President Mario Draghi speaks at an event organized by l'Autorité de Contrôle Prudentiel et de Résolution in Paris
10 a.m. Vestager speaks at the Post-Growth 2018 conference
11 a.m. Eurostat to release data on sustainable development goals
12 p.m. Statement by Commissioner Malmström on the reform of the World Trade Organization WTO and the global alliance for a trade without torture
International Atomic Energy Agency holds its annual general conference in Vienna, Austria
European Affairs ministers meet in Brussels to discuss Brexit, Poland; EU chief Brexit negotiator Barnier to brief them on the state of talks
Informal meeting of energy ministers in Linz, Austria
Like the Brussels Edition?