Brussels Edition: Rules for Banks
(Bloomberg) -- Welcome to the Brussels Edition, Bloomberg's daily briefing on what matters most in the heart of the European Union.
Following an all-night debate among finance ministers on reforming the euro area, European banks hope to get more clarity today on the rules that'll govern them — from new capital and liquidity requirement to preventing failure — as talks draw to a close after two years of debate. Many differences of opinion have had to be overcome, first between Germany and France, then with the European Parliament. While lobbying by banks won them a string of concessions, the final package will likely be touted by finance ministers as a big step forward in reducing risks in the system, a prerequisite for further integration. 
Dollar Dominance | The European Commission is set to unveil plans to challenge the greenback's dominance in global markets, including energy, as a widening transatlantic rift leaves the bloc exposed to Washington's whims. Proposals to be released this week include using the euro in energy contracts between EU member states and third countries and the establishment of an instant payments system in the EU, according to drafts seen by Bloomberg.
Zombie Taxes | The EU's financial transaction tax is back from the dead as Paris and Berlin promote a simpler approach modeled on France's existing levy on share transactions. The 10 countries pushing for the tax met on the sidelines of the Eurogroup in Brussels yesterday, and are ready to consider the proposal. A similar approach was pursued for the controversial tech tax as Germany and France agreed overnight to a watered-down version of the levy. 
Reversing Brexit | Just a week after the EU's top court heard a precedent-setting case on whether Article 50 can be unilaterally reversed by the U.K., its Spanish advocate general will publish his non-binding view today. The speed with which the opinion comes matters because it leaves room for the court's binding ruling before the end of the year, potentially even before the U.K. Parliament vote on Prime Minister Theresa May's Brexit plan.

NATO Woes | North Atlantic Treaty Organization foreign ministers meet today in Brussels as its European members seek to prevent yet another unilateral U.S. withdrawal from a landmark international pact. Europe argues that Washington should give Moscow a chance to show it's in compliance with the 1987 Intermediate-Range Nuclear Forces Treaty before making good on Donald Trump's vow to abandon it. Otherwise, Russia can blame him for the treaty's demise, it says. 
Thin Line | Top executives of Volkswagen, Daimler and BMW have a balancing act to pull off when they meet with Trump administration officials today about potential tariffs on U.S. imports from Germany: They don't want the U.S. to enact proposed levies of as much as 25 percent on billions of dollars worth of cars they ship from Germany every year. But they will also be careful not to become entangled in negotiations that rest squarely in the hands of EU trade officials. 
Deutsche Scandal | Deutsche Bank is back at the heart of a scandal. The pictures of police cars with flashing lights lined up in front of the bank's Frankfurt headquarters sent the share price to a record low as investors considered the possibility of new distractions for top management and the potential of fines. Here's a look at how bad it is. 
Illiberal Win | Central European University, founded by Hungarian-born billionaire George Soros, confirmed it is relocating its American-accredited degree programs to Vienna after getting insufficient support from Europe and the U.S. in a legal dispute with Prime Minister Viktor Orban's government. The move marks a milestone in Orban's construction of an illiberal state, which he's solidified with campaigns vilifying Soros, a philanthropist for liberal and multicultural causes.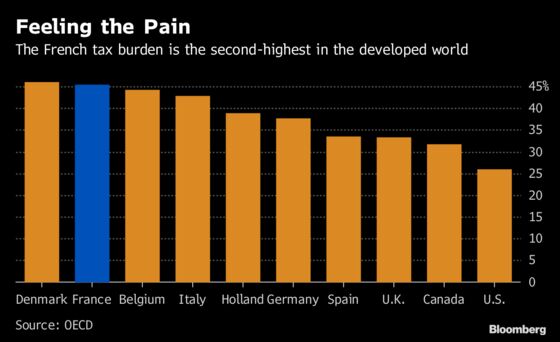 French President Emmanuel Macron could introduce emergency tax cuts to quell violent protests, a move that risks worsening the country's budget deficit. Just 18 months in office, the president looks hemmed in on all sides, amid a backlash against policies seen to overwhelmingly benefit the wealthy. He ends the year with the French economy stagnating, unemployment stubbornly high and his approval ratings through the floor.
8:45 a.m. Euro-area finance ministers hold press conference after meeting on reforming the currency bloc
9 a.m. EU finance ministers will discuss a large package of new banking regulations, which is supposed to deliver a boost to the reform of the euro area; ministers will also discuss a proposed tax on the European revenue of tech giants, as well as anti-money laundering measures
9 a.m. EU Justice Commissioner Vera Jourova speaks in Brussels at Politico event 
9 a.m. EU telecommunications ministers will exchange views on a proposal to update privacy rules for electronic communications (ePrivacy) and a proposal to establish a European cybersecurity center. 
9 a.m. EU top court adviser gives non-binding opinion on whether the Brexit notification, under art. 50 of EU treaties, can be unilaterally revoked 
9 a.m. Friends of Europe think tank hosts its annual Balkans Summit, featuring Albanian Justice Minister Etilda Gjonaj, Former Yugoslav Republic of Macedonia Defense Minister Radmila Šekerinska and others
9:45 a.m. U.S. Secretary of State Mike Pompeo meets Belgian PM Charles Michel
11 a.m. Secretary Pompeo delivers keynote speech at the German Marshall Fund of the United States 
3:45 p.m. ESM Managing Director Klaus Regling meets with European Council President Donald Tusk 
7 p.m. NATO foreign affairs ministers hold working dinner
One of the world's biggest startup events, Slush, kicks off in Helsinki, where startups, investors, executives and European officials, including EU competition chief Margrethe Vestager, will gather at the two-day conference to discuss the latest trends and innovations in the tech world