Brussels Edition: Rebuking Trump
(Bloomberg) -- Welcome to the Brussels Edition, Bloomberg's daily briefing on what matters most in the heart of the European Union.
EU leaders meet their Asian counterparts today as they seek to strengthen ties amid heightened tension with the U.S. After days of frantic back-and-forth, the two sides appeared to reach consensus on a communique by the EU hosts rebuking President Donald Trump's policies in areas ranging from trade and the environment to the Iran nuclear accord, according to a draft. That's unlikely to go down well in America after the EU, China, Russia and Norway joined "several other" countries in asking the World Trade Organization to investigate the U.S. administration's decision to impose tariffs on metal imports, creating a new front in the trade war.
Budget Mail | The European Commission is expected to send letters to several euro-area countries today asking them to offer further clarification on budget plans they submitted this week. The letters, part of a regular exchange to coordinate fiscal policy and make sure everyone is sticking to fiscal rules, are sometimes a harbinger of a further reprimand.
Week Ahead | The highlight of an otherwise quiet week is Apple CEO Tim Cook's visit. He will headline a privacy conference in Brussels on Wednesday, likely taking the opportunity to underline how his products protect users' data as Silicon Valley rivals Google and Facebook continue to come under fire for security breaches. Those who find financial regulation cooler than iPhones, stay tuned for a readout from the informal, closed-door hearings for three candidates vying for the chair of the Single Supervisory Mechanism.
Romania Rerun | Romania's alleged disregard for the rule of the law may come under the EU spotlight for the second time in three weeks on Tuesday, when Romanian President Klaus Iohannis is due to take part in the European Parliament's series of debates with national leaders on "The Future of Europe." In an Oct. 3 exchange with Romanian Prime Minister Viorica Dancila, members of the 28-nation Parliament accused her of undermining judicial independence.
Letter to Rome | The European Commission said Italy's spending plans are excessive and asked for an explanation, the first step in what threatens to become a full-blown standoff. The letter marks the start of a process that could culminate in a decision by the Commission to issue a negative opinion next week — essentially rejecting Rome's budget — and asking for revisions.
Brexasperated | Theresa May had 15 minutes to impress EU leaders with a new way out of the political morass that has become Brexit. Instead, the British prime minister came across as nervous, speaking too fast for an audience of non-native English speakers. Read more here about how, at the end of May's pitch, no one was any the wiser as to what the U.K. was bringing to the table other than a familiar serving of warm words.
Truck Limits | The process of fixing the first EU caps on carbon dioxide from trucks may follow the path for toughening limits on cars: legislators end up being more ambitious than regulators. The European Parliament's environment committee voted yesterday for truck-CO2 emissions to be cut by 35 percent in 2030 compared with 2019, more than the 30 percent reduction target proposed by the European Commission in May. Next up: a verdict by the full EU Parliament in November and negotiations with national governments on a final deal.
Benchmark Breather | Banks are finding allies in Brussels with their call for extra time to adopt a new euro benchmark lending rate as Europe tries to put a spate of rigging scandals behind it. The use of Eonia will be restricted at the start of 2020 because it doesn't meet EU standards, and the ECB may not start publishing its replacement — the euro short-term rate, or Ester — until October 2019. A smooth transition is critical, with about 22 trillion euros ($25.3 trillion) of derivative contracts tied to Eonia.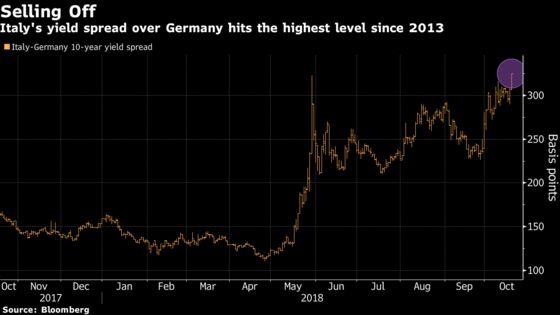 The gap between Italian and German bond yields has widened to the biggest since 2013, when the region was just emerging from a sovereign debt crisis, raising questions over the sustainability of Italy's public finances. The spike came as ECB President Mario Draghi told EU leaders yesterday that questioning the bloc's rules can worsen financial conditions and damage growth, remarks likely aimed at Italy's budget dispute with the Commission.
Meeting of 51 EU/Asian heads of state or government in Brussels to discuss trade, environment
EU/Korea summit in Brussels to discuss trade, denuclearization of Korean peninsula