Brussels Edition: Pipeline Politics
(Bloomberg) -- Welcome to the Brussels Edition, Bloomberg's daily briefing on what matters most in the heart of the European Union.
The latest issue for EU governments to butt heads over: proposed natural-gas rules that could undermine the Germany-backed Nord Stream 2 project to boost imports from Russia. Diplomats are due to decide whether to advance draft legislation that could create hurdles to the project, which is opposed by the U.S. The plot thickened yesterday when France said it will back the proposed new rules — a move Berlin could see as a stab in the back.
Sondland Speaks | We spoke at length to Gordon Sondland, the U.S. ambassador to the EU. He warned western governments to keep Chinese companies away from critical infrastructure projects or face the prospect of U.S. retaliation. On trade, Sondland said that the truce between the U.S. and EU was at risk of unraveling and that the EU "misrepresented" what was discussed last July. Automakers, take note.
Brexit Crunchtime | EU chief Brexit negotiator Michel Barnier meets the bloc's envoys in Brussels this morning after Theresa May and Jean-Claude Juncker agreed yesterday to send their negotiating teams back to the table. The two sides will seek to break the impasse as the U.K. looks for concessions from the EU on its divorce deal. Meanwhile, May heads to Dublin today to dine with Irish Prime Minister Leo Varadkar.
Cyber Sanctions | Technocrats representing the EU's 28 governments meet behind closed doors in Brussels today to discuss options for expanding the scope of the bloc's sanctions regime to punish companies, states and individuals involved in cyber crimes. An internal memo circulated beforehand lists data breaches, intellectual property theft, attacks on IT infrastructure and stealing of classified information among the offenses punishable with asset freezes and travel bans. 
Week Ahead | EU finance ministers are set to agree to formally nominate Philip Lane to become the next European Central Bank chief economist next Tuesday. With the Irish central bank governor the sole candidate in the running, suspense isn't exactly keeping us up at night. Still, his nomination and a discussion on the controversial euro-area budget should give the bloc's finance chiefs plenty to talk about when they meet next week. 
Valentine's Day | Finance ministers aside, we've got you covered for the other important stuff happening next week. Love it or hate it, Valentine's day is fast approaching. Here are 28 perfect date-night ideas. If you thought that Frankfurt is just for monetary-policy geeks, think again.
Bad Romance | France recalled its ambassador to Italy, citing repeated "meddling" in its domestic affairs and "unacceptable" provocations, as relations between the two sunk to a post-war low. The move came after Italian Deputy Premier Luigi Di Maio met a senior figure of the Yellow Vests movement earlier this week, trumpeting his support for the protests in defiance of President Emmanuel Macron. 
Gloomy Outlook | The euro area has had a poor start to 2019: disappointingly weak indicators keep rolling in, the list of one-off growth inhibitors is getting longer and a slew of institutions are downgrading their forecasts. While ECB President Mario Draghi and his colleagues have acknowledged the weakness, they have so far stopped short of changing guidance on ultra-low interest rates, let alone resuming bond buying.
Facebook Blow | German antitrust regulators ordered Facebook to change how it tracks users' internet browsing data in a landmark ruling yesterday. The Federal Cartel Office gave the company 12 months to stop "unrestrictedly collecting and using" data and combining it with users' Facebook accounts without their consent. The company said it was being unfairly singled out by the regulator, which has broken new ground by using antitrust law to tackle data privacy.
Carney Warning | Growing Brexit uncertainty is cascading through the U.K. economy, delaying business decisions and hurting consumers, Bank of England Governor Mark Carney said after the central bank cut its growth forecast and predicted a dramatic slump in investment. With Britain now only 49 days away from the March 29 deadline to leave the EU, the economy isn't ready for a no-deal, no-transition Brexit, Carney said.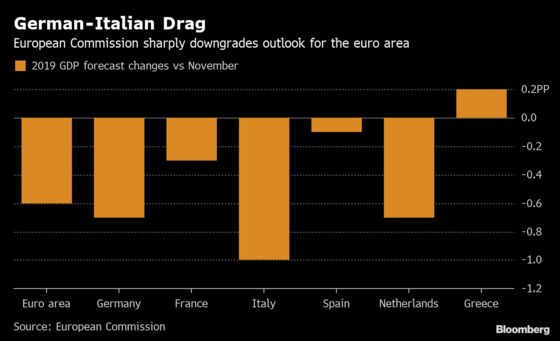 The European Commission slashed its growth forecasts for all the euro region's major economies and warned that Brexit and the slowdown in China threaten to make the outlook even worse. The EU's executive arm delivered a downbeat report on Thursday that shaved a whole percentage point off its 2019 projection for Italy, now seen with minimal expansion of just 0.2 percent for the whole year. Officials in Brussels warned that the region's outlook faces "substantial" risks.
Informal meeting of EU justice and home affairs ministers in Romania
EU competition chief Margrethe Vestager gives a keynote speech at the Conference 'Digital Czech Republic 2019' in Prague