Brussels Edition: More Than Just Hot Air
(Bloomberg) -- Welcome to the Brussels Edition, Bloomberg's daily briefing on what matters most in the heart of the European Union.
Climate policy is becoming a new fault line in European politics, not least because of the vast reallocation of resources required to arrest and adapt to the overheating of our planet. The EU Commission may have proposed the most ambitious road map the world has ever seen to reduce emissions to a minimum, but poorer eastern member states won't sign up to the collective goal of climate neutrality at today's summit without concrete commitments of financial assistance from their western peers. The latter are counting on public opinion to convince the holdouts. But when their own interests are at stake — as with French nuclear power — idealism fades and the harsh reality of the Green Deal sinks in: It's easier said than done.
Money Talks | Climate won't be the only issue leaders will fight over. Expect fireworks during dinner, when they'll debate the bloc's next long-term budget. With disagreements persisting over the size and what to spend on, the debate will be long and acrimonious — complicated by fresh questions over financing the EU's green shift. 
Turkey Tensions | EU leaders are also set to dismiss the legality of a contentious maritime deal between Turkey and Libya. The agreement risks becoming a new flashpoint in EU relations with Turkish President Recep Tayyip Erdogan amid the bloc's discontent over his crackdown on domestic political opponents, military incursion in northeastern Syria and natural-gas drilling off Cyprus.
U.K. Votes | One EU leader who won't be at the summit? Boris Johnson. The British premier will be in London as election results trickle in, leaving his colleagues checking their phones for updates. Depending on how clear the results are, EU leaders will tomorrow discuss next steps on negotiating a future trade deal with the U.K. or wait for the dust to settle in London. Here's our ballot-day guide.
Trade Weapon | The EU will move today to expand its commercial-policy arsenal in response to the U.S.-induced demise of the World Trade Organization's appellate body. Trade Commissioner Phil Hogan will propose giving the EU the power to sanction countries that illegally restrict commerce and simultaneously block the WTO's dispute-settlement process.
French Pensions | French workers will begin contributing to a new public-pension system from 2025 under Emmanuel Macron's plan to reform the country's existing arrangements. While the government has been making conciliatory noises in a bid to avoid a total blockade of transport, schools and other public services, pushing through a central pledge is an important political test for Macron.
Euro Woes | Italian Prime Minister Giuseppe Conte insisted on Italy's red lines over the reform of Europe's bailout fund and banking union, as he sought to placate critics within his fragile coalition. His tough stance comes as the euro area's leaders are set to push to complete reforms to strengthen the bloc's economy and makes it harder to reach the desired compromise in coming months. 
Polish Law | Poland's government plans to place new restrictions on judges, ignoring concerns by the EU and its own Supreme Court that it's eroding the rule of law. The move comes a day after EU ministers discussed democratic backsliding in members including Poland and Hungary, and may escalate a stand-off over whether the ruling party is thwarting the bloc's values by politicizing courts.
Border Dispute | The EU's top court doesn't have jurisdiction over a dispute between Croatia and Slovenia over the border at Piran Bay in the northern Adriatic, an adviser to the bloc's top tribunal said. The border disagreement, which started when the two countries gained independence in 1991, has soured bilateral relations and could complicate Croatia's goal to join the Schengen area.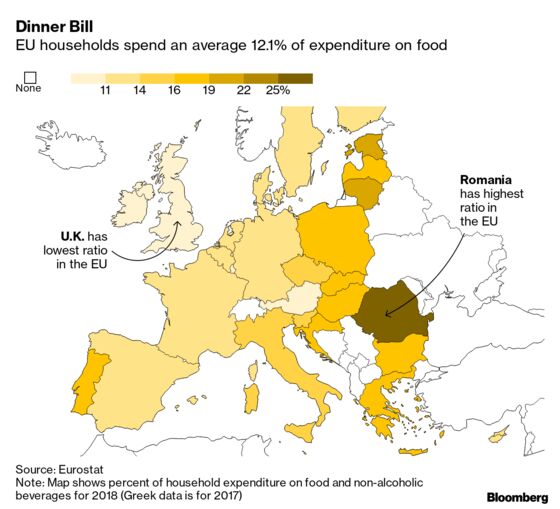 EU households spent an average 12.1% of their total consumption expenditure on food and non-alcoholic beverages last year, but there are big discrepancies within the bloc. In the U.K, Ireland, Luxembourg and Austria, the category accounts for less than 10%, while in Romania it was almost 28%.
9 a.m. European Parliament holds hearing with Andrea Enria, chair of the ECB's supervisory board
1:45 p.m. ECB rate decision, followed by press conference at 2:30 p.m.
3 p.m. EU leaders meet in Brussels to discuss Green Deal and the bloc's next budget
11 p.m. Exit polls in U.K. election
German Chancellor Merkel due to meet with the new leaders of the Social Democrats, her disgruntled coalition partner