Brussels Edition: Misery Measure
(Bloomberg) -- Welcome to the Brussels Edition, Bloomberg's daily briefing on what matters most in the heart of the European Union.
The extent of the euro area's misery will be captured in the release today of data on fourth quarter GDP, which comes after a string of consistently disappointing economic figures from across the region in recent weeks. Italy probably slid into a recession, the German economy barely eked out growth and French consumer spending ground to a halt amid violent Yellow Vest protests. For all that gloom, economists are forecasting a quarterly expansion of 0.2 percent — the same pace as in the previous three months. 
Tough Ask | U.K. Prime Minister Theresa May admitted that renegotiating the Brexit deal wasn't going to be easy, but she can be under no illusion after calls last night with EU President Donald Tusk and Irish Prime Minister Leo Varadkar, where they made clear they weren't going to give in. As May tries for more cross-party support, the EU warns it could go down to the wire.
Fog Ahead | EU foreign ministers gathering in Bucharest may flesh out their approach to Venezuela's worsening political crisis by announcing an international contact group to facilitate a resolution between the country's embattled strongman and the opposition. They will also discuss EU-China relations, while other headaches include Washington's plans to suspend its obligations under a landmark 1987 arms-control agreement with Russia and the withdrawal of U.S. troops from Syria.
Iranian Funding | EU government envoys finally reached agreement last night on the wording of a communique to launch a funding vehicle to help companies deal with U.S sanctions against Iran. The statement welcomes the creation of the so-called SPV "with a view to providing a positive impact on trade and economic relations with Iran," according to the communique we've seen. The launch of the vehicle should be announced today by France, Germany and the U.K. But then again, it has been delayed many times before.
Merger Saga | National competition authorities are due to vote today on a European Commission recommendation to block the Siemens-Alstom rail deal. The U.K., Dutch, Spanish and Belgian authorities said late last year that they weren't happy with the companies' efforts to address antitrust concerns — a rare public outing. A final EU decision on the deal may come on Feb. 6.
Burning Coal | The task of winding down Germany's coal industry begins today, with Chancellor Angela Merkel and the utilities with the most at stake working out details of the shift that will cost at least 40 billion euros. Merkel will meet governors of the most coal-dependent states to discuss compensation for shutting down mines and about 120 power plants.
Italian Woes | While Italy is used to persistent political instability, its industrial heartland has another problem — a global slowdown that's hitting demand in the export-reliant economy and corporate leaders are trying to get ahead of the coming storm, Lorenzo Totaro reports. 
Italian Woes II | And since we're talking about Italy, it's worth noting the optimism of one of the country's most influential lawmakers, Claudio Borghi, who says he's confident the troubled lender Carige — which was placed under administration by the European Central Bank — will find a private partner. Meanwhile, fellow troubled lender Monte Paschi is preparing to sell some of its real-estate jewels to boost its capital. 
Irish Success | As expected, Irish central-bank governor Philip Lane was declared the sole candidate to succeed Belgium's Peter Praet as chief economist of the ECB. It's a big job for Ireland, confirming its status as the EU member state most-loved by its partners these days. That's even though it has annoyed quite a few of them with its opposition to the controversial tech tax.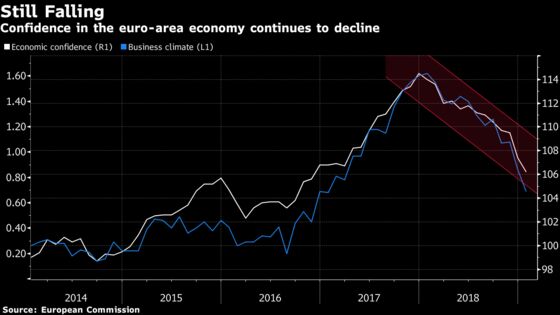 Euro-area economic confidence extended its worst losing streak in a decade at the start of 2019, amid spreading pessimism in industry, services and retail trade, even as the mood among consumers improved slightly. The European Commission's economic sentiment index dropped more than economists forecast in January, reaching the lowest in more than two years.
10 a.m. Finnish Prime Minister Juha Sipila speaks in Brussels to the European Parliament as part of its series of debates on the "Future of Europe"
11 a.m. Press conference following informal meeting of EU defense ministers in Bucharest
11 a.m. Eurostat to release preliminary Flash Estimate on 4Q GDP in the EU and euro area as well as December unemployment reading
12:30 p.m. EU foreign affairs hold informal meeting in Bucharest 
Representatives of national competition authorities are due to vote on a looming EU veto for the Siemens-Alstom rail deal