Brussels Edition: May's Last Dash
(Bloomberg) -- Welcome to the Brussels Edition, Bloomberg's daily briefing on what matters most in the heart of the European Union.
Brexit negotiators are back to all-nighters to keep Sunday's summit on track after talks between European Commission President Jean-Claude Juncker and U.K. Prime Minister Theresa May last night in Brussels failed to break the deadlock. As the frantic dealings continue, May plans a last-minute return trip on Saturday, hoping to resolve any outstanding issues in time to salvage a crunch summit aimed at rubber stamping a deal. Even if she succeeds, a bigger battle looms in the British parliament.
Disciplining Italy  | After the EU Commission took a first step toward imposing fines on Italy for violating EU debt rules, eyes will now shift to the bloc's governments, which have two weeks to endorse a report by the EU's executive arm, clearing the way for a disciplinary process that could start in January. Italian Deputy Premier Matteo Salvini gave his EU peers little respite yesterday by sticking to his guns on the populist government's spending spree.
Euro Talks | The budget standoff with Italy is set to cast a shadow over a meeting of euro-zone finance ministry deputies in Brussels today. Their agenda, setting up next month's meeting of their bosses, is already packed with the latest on efforts to shore up the currency bloc, including strengthening the bloc's bailout fund and a Franco-German plan for a eurozone budget. The group is also set to discuss the commission's opinions on spending plans. Read: Italy.
Greek Banks | The Bank of Greece will unveil details of its plan to relieve lenders of the mountain of bad loans burdening their balance sheets. Banking stocks have lost more than 50 percent of their value this year amid lingering doubts about the state of the financial system. The government now plans to trim investment in its budget next year, to make savings for election campaign handouts, to the Commission's applause. Not much to see here.
NATO Showdown | We hear that a NATO foreign ministers meeting next month is going to be unusually interesting — especially the planned dinner to discuss transatlantic ties. It's not just the drumbeat of U.S. complaints about inadequate European defense spending and talk of an EU army. President Donald Trump's administration is seeking allied backing for the president's call to pull out of a seminal nuclear treaty. France and Germany are resisting, as they fear that scrapping INF could lead to the re-nuclearization of the continent.
Polish U-Turn | Poland's ruling Law & Justice Party appeared to back down in its clash with the EU, submitting legislation to reverse the forced retirement of Supreme Court judges that has triggered an unprecedented suit against a member state for eroding the rule of law. The submission marks a U-turn in Poland's position on the issue amid a widening corruption probe in the banking industry.
Trade Dispute | The World Trade Organization agreed to investigate the legality of U.S. tariffs on steel and aluminum imports, following a request from the EU and China. But that will be a tricky one for the Geneva-based WTO: if it decides in favor of the U.S., it could entice the body's 164 members to use national security as justification to impose protectionist measures for economic gain; if it rules against the U.S., Trump could decide to leave the organization entirely.
Dirty Money | Europe should take a long, hard look at the international correspondent banks and U.K.-based shell companies that greased the flow of dirty money in one of the biggest laundering scandals in history, according to the man who first brought the case to light. Here's what he told lawmakers in Brussels yesterday.
Holiday Gifts | It's Thanksgiving today, so forget about Brexit and Italy's budget for a moment. As the clock ticks down to a much-needed holiday season, we have a news item you can actually use: our ultimate guide to 86 next-level gift ideas, courtesy of Bloomberg Pursuits. Though U.S. bourbon might be too pricey in Brussels this year.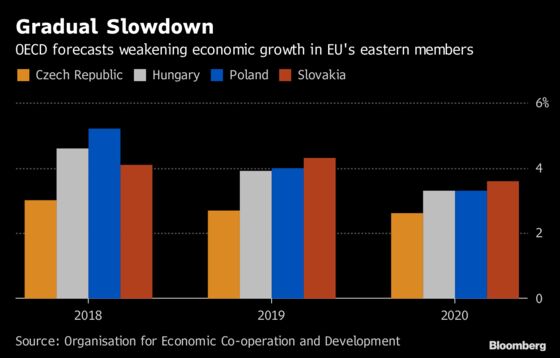 The EU's eastern members are heading into a period of slowing economic growth as tight labor markets constrain expansion and rising inflation triggers the withdrawal of loose monetary policies, according to forecasts by the Organisation for Economic Co-operation and Development.
11:15 a.m. Press conference by EU Vice-President Katainen and Commissioner Bieńkowska on the Investment Plan for Europe, the Single Market in a Changing World and Harmonized Standards

12:15 p.m. EU competition chief Vestager speaks at American Chamber of Commerce conference

12:30 p.m. Press conference by EU Commissioner Andriukaitis on the results of the 2018 Health at a Glance: Europe report

EU ambassadors in Brussels scheduled to take stock of Brexit deal talks

Huawei hosts a conference exploring Europe's role in the development of artificial intelligence. Huawei executives, European officials and researchers will gather to discuss their views about what Europe can do to best exploit the potential of machine-learning

EU top court rules on case brought by Swedish Match AB, a maker of snus smokeless tobacco products, on whether bans on oral tobacco in EU member states such as the U.K. are in line with EU rules

EU Trade Chief Malmström delivers a speech on "Investment protection, Investor-State Dispute Settlement (ISDS)-reforms, and the EU plans for a permanent Multilateral Investment Court" at an event organized by the Belgian Ministry of Foreign Affairs

EU top court adviser gives non-binding opinion on whether a screw lying on the runway is an extraordinary circumstance in cases of delays of flights and compensation rights for customers