Brussels Edition: Make or Break Moment
(Bloomberg) -- Welcome to the Brussels Edition, Bloomberg's daily briefing on what matters most in the heart of the European Union.
First, the good news: the coronavirus outbreak is increasingly showing signs of peaking in Italy and Spain, and there are some 70 vaccines in the works, with three already being tested in human trials, according to the WHO. But the bad news is they will likely not be ready for a year and until then, the global economy is careening toward its worst crisis since the 1920s. That's upped pressure on the International Monetary Fund and the World Bank, both meeting this week via video conference, to show they're up to the task of dealing with what one former IMF chief economist describes as a "make-or-break" moment. A lack of forceful action could set the stage for damaging debt defaults and "biblical" migration scenes, while unemployment looks set to skyrocket across Europe.

What's Happening
Confinement Extended | French President Emmanuel Macron extended the coronavirus lockdown to May 11, while conceding that the country could have been better prepared before the pandemic. Economic activity and schools will gradually open from that day, he said in a televised address yesterday. The extension follows a similar decision in neighboring Italy.
Courting Tech | The coronavirus may finally catapult Germany's courts into the 21st century from a world of paper files. Could Zoom soon be coming to a court near you?
State Reinvention | With performance measured in numbers of hospital beds, rather than aircraft carriers and missile-defense systems, one legacy of the coronavirus is proving to be an unpleasant wake-up call for the West, reports Bloomberg's Alan Crawford. Here's how governments may be forced to change.
Recovery When? | Europe is likely to experience a more severe recession than the rest of the world and might not show proper signs of recovery until 2021, according to ECB Vice President Luis de Guindos. It's already looking pretty grim, with the French economy contracting some 6% in the first quarter and Germany expected to shrink nearly 10% in the current period.
Putin's Climbdown | The oil price war that sent the cost of a barrel tumbling toward $20 is over, but not all have emerged unscathed. Russian President Vladimir Putin has been forced to make embarrassing concessions — agreeing to more than four times the output cut he turned down in early March, and more than what Saudi Arabia was obliged to cut from its output level last month.
Greek Squeeze | Greece is the EU's second most exposed country to tourism, so it's set to take a pretty big hit from the coronavirus crisis. The nation's hotels may lose more than half their revenue, according to the Hellenic Chamber of Hotels. It comes as the economy is likely to shrink between 5% and 10% this year.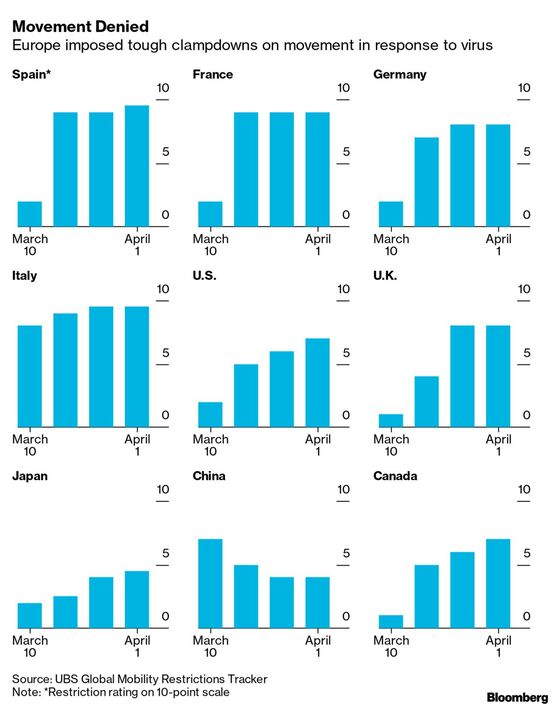 This is a look at how governments across Europe have imposed tough clampdowns on movement in response to the coronavirus and shut down parts of their economies. In doing so, they've had to decide which businesses are essential and which aren't. The result has been a playbook written in real time and in many cases reversed days later, causing confusion among companies and workers during a time of heightened uncertainty.
10 a.m. Video conference of EU education ministers
11 a.m. NATO secretary general briefs press ahead of defense ministers video conference; virtual briefing at 5 p.m.
11:30 a.m. EU Justice Commissioner Didier Reynders speaks at an online event about measures taken across the 27-nation bloc to fight the coronavirus that affect people's most fundamental rights
EU officials and diplomats in the bloc's crisis response group convene