Brussels Edition: Italian Gamble
(Bloomberg) -- Welcome to the Brussels Edition, Bloomberg's daily briefing on what matters most in the heart of the European Union.
In response to the European Commission's request for a fresh budget from Italy, the most you can expect today from Rome is a few tweaks. With Finance Minister Giovanni Tria saying meeting the EU demand would be "suicide," Italy is likely to stick to its guns. Deputy Premiers Luigi Di Maio and Matteo Salvini would rather risk a possible escalation of their spat with Brussels than go back on campaign promises.
Getting Critical | It feels like Brexit focus day today. In London, Theresa May's cabinet discusses whether to accept the outline of a deal negotiated with the EU. In Strasbourg, Michel Barnier briefs the College of EU commissioners after telling ministers yesterday that the deal is close but not there yet. If all goes according to plan, Brexit Secretary Dominic Raab will be at the EU Commission in the next 24-36 hours. But when has Brexit ever gone according to plan?
Green Goal | The European Parliament is due to rubber-stamp a deal reached with EU governments today to fix a mandatory renewable-energy target of 32 percent of consumption by 2030. Higher than the 27 percent proposed by the EU Commission, the law still has a weakness: it won't have specific objectives for individual member countries.
Looking East | The Commission will release annual reports on Bulgaria and Romania today, assessing their progress in reforming their judicial systems to ensure they fight corruption and organized crime, a key condition for them to join the EU's Schengen passport-free travel zone. The reports come as the rift widens between Europe's core and its troubled East. As Romania prepares to take over the EU's presidency in January, here's a look at the EU trouble spot.
Say Cheese | Does the creamy tang of cheese warrant protection? That question — whether copyright rules can be stretched to cover the taste of food — will be addressed in a ruling due today by the EU court. It will help settle a dispute between a Dutch company trying to enforce its copyright on a spreadable dip with cream cheese and herbs, called Heksenkaas, or witches' cheese, against one produced for Aldi supermarket called Witte Wievenkaas, or Witty Women cheese.
Germany First | Siemens Chief Executive Officer Joe Kaeser said Germany must aspire to a distinct national strategy and not rely solely on its European partners. He called for a "Germany first" approach that would require the government to more clearly define its global interests. 
Hyperlooped Spaniards | El Puerto de Santa Maria in Spain lives mainly on booze, beaches and benefits. But Mayor David de la Encina has a grand plan for it. He is promoting investors who want to turn it into a manufacturing hub for the Hyperloop, a futuristic transport technology that so far exists mainly in power-point presentations.
Swedish Debacle | Two months after Sweden's inconclusive election, the country still has no government and the center-right Alliance coalition risks splitting up amid deep disagreements over whether to accept support from nationalists. Here's everything you need to know about what went wrong in a nation that was once a posterchild of political stability.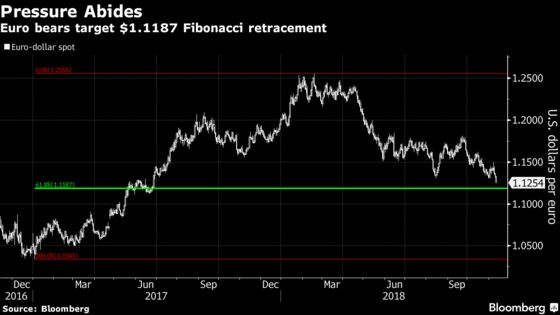 Political risks gathering across Europe are back to haunt investors. The euro slumped to its weakest level in more than 16 months yesterday, as the Commission looked ready to escalate its budget battle with Italy. Meanwhile, the pound slipped the most in more than a month as pressure mounted on U.K. Prime Minister Theresa May to abandon her Brexit divorce proposal or face defeat in parliament. Things looked equally bleak for European stocks. 
8:30 a.m. Gordon Sondland, U.S. ambassador to the EU, delivers speech at the European Policy Centre on "the state of the transatlantic partnership" 
8:45 a.m. Keynote address by NATO Secretary General Jens Stoltenberg at the NATO Industry Forum in Berlin
3 p.m. German Chancellor Angela Merkel delivers a speech on the future of Europe at the European Parliament in Strasbourg 
7:30 p.m. EU Competition chief Margrethe Vestager participates in the European Parliament debate in Strasbourg on empowering competition authorities and ensuring the proper functioning of the internal market
EU top court decides whether copyright rules can be stretched so far as to protect someone's right to protect the taste of spreadable cheese 
Deadline for Italy to submit revised budget plan to the EU Commission following rejection of earlier draft 
To fight climate change, new ambitious binding 2030 targets for renewables and energy efficiency will be put to a vote at the European Parliament