Brussels Edition: How Significant Is Significant?
(Bloomberg) -- Welcome to the Brussels Edition, Bloomberg's daily briefing on what matters most in the heart of the European Union.
With Brexit just weeks away, U.K. Prime Minister Theresa May is keen to extract some concessions, and her meeting with European Commission President Jean-Claude Juncker this evening could be a crucial step. Yesterday, her spokesman described the meeting as "significant," but behind the scenes, officials were a lot less optimistic. There's also talk of the British presenting the EU this week with a legal text that they hope will convince the U.K. Parliament. So far, there's little sign of it — and meanwhile, EU countries are doing everything they can to prepare for no deal.
EU "Rock Star" | Austrian Chancellor Sebastian Kurz — dubbed by a U.S. diplomat as the "rock star" of the European right — is meeting Donald Trump in the White House. They probably won't agree on everything: Kurz has been critical of U.S. tariffs, and Austria's state-controlled gas company is a key backer of the Nord Stream 2 gas pipeline that the U.S. is threatening with sanctions.
Copyright Controversy | The EU's controversial overhaul of copyright rules will go to an informal vote today by EU diplomats, signalling whether it can clear one of its final hurdles. The rules, which need a sign-off from member states and the European Parliament, could have great repercussions on how European web users experience some of their favorite internet sites.
Caracas Visit | An EU mission arrives in Venezuela today to try to prod President Nicolas Maduro to hold new elections. The bloc is seeking to use diplomacy to reach a peaceful outcome to the political and humanitarian turmoil in the country, where Maduro faces a U.S.-backed challenge by opposition leader Juan Guaido.
Antitrust Overhaul | The leaders of France and Germany stepped up their campaign to overhaul EU antitrust rules so that regional companies can better compete with global giants in the U.S. and China. The latest efforts follow the EU's decision this month to block Siemens' bid to create a rail champion with French rival Alstom. 
Kicked Out | Danske Bank will shut operations across Baltic states and in Russia after authorities in Estonia kicked out the Danish lender amid a deepening scandal. The European Banking Authority is investigating financial watchdogs in Estonia and Denmark to determine whether they did enough to prevent one of the bloc's worst ever money-laundering cases.
Twitter Police | Twitter plans to introduce extra checks and publish more information about political ads in Europe, stepping up efforts to combat disinformation online amid worries Russia or other actors could try to meddle with EU elections in May. The bloc has warned tech companies to take actions or face regulation.
ECB Signals | With Italy staring at a recession, Germany stagnating and the euro-area outlook seeming bleaker, the top economist and market chief at the European Central Bank have signaled they're already discussing policy options should the situation take a turn for the worse.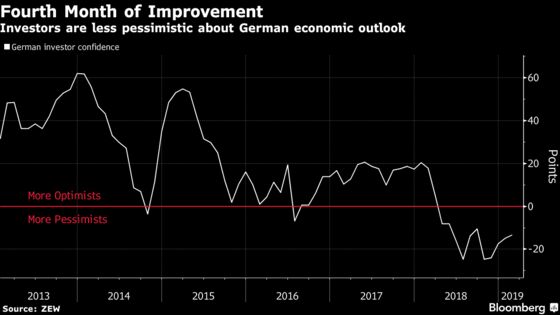 Investor confidence in Germany's economic outlook improved for a fourth straight month, hinting that a modest pickup in momentum could be coming. A gauge measuring prospects for the next half year rose to minus 13.4 in February, beating an estimate for a gain to minus 13.6. While the index recorded its longest streak of improvements since early 2015, the negative reading means pessimists still outnumber optimists among survey participants.
6:30 p.m. Commission President Juncker meets U.K.'s May in Brussels
Juncker receives Slovenian President Borut Pahor. The two will hold a joint press conference
EU and NATO officials speak alongside technology and cyber-security firms at an event in Brussels about cyber-security risks
European Central Bank Executive Board member Peter Praet gives speech at 11th Frankfurt Main Financial Centre breakfast, organized by Frankfurt Main Finance
Austria's Chancellor Sebastian Kurz visits U.S. President Donald Trump