Brussels Edition:  Gordian Knot
(Bloomberg) -- Welcome to the Brussels Edition, Bloomberg's daily briefing on what matters most in the heart of the European Union.
When a Brussels Edition reader asked us yesterday to enlighten readers by writing a Brexit dictionary, we initially thought it was a good idea. Then we realized there's just one word that matters: backstop. The term has become a new "Gordian Knot," EU Council President Donald Tusk said ahead of the meeting of the bloc's leaders today. And with Alexander the Great no longer around, the burden falls on EU leaders and British Prime Minister Theresa May to untie or cut the Irish knot over dinner in Brussels tonight. Based on yesterday's intelligence, outcomes range from total stalemate to a surprise breakthrough.
Cyber Defense | This week's summit isn't only about Brexit. EU leaders are also set to pledge to further strengthen the bloc's resilience against cyber attacks and efforts to interfere with next year's European elections. Following a proposal that we reported last week, they will vow tomorrow to establish a cyber sanctions regime, amid increasing concerns about the actions of foreign operatives that could undermine anything from Europe's IT infrastructure to the democratic process. 
Tech Tax | According to a draft agenda of next month's meeting of EU finance ministers, the Austrian Presidency of the EU has put a "political agreement" on a digital services tax on its list of goals. But there's probably no reason for the likes of Facebook Inc. and Amazon.com Inc. to be alarmed just yet. Our sources insist that the objections of some member states to such a levy haven't been dropped, and EU envoys in Brussels advised Austria to just hold a "state-of-play" discussion on the matter. 
Seeking Investment | The leader of Greece's main opposition party says in an interview with Bloomberg that what his country needs more than anything else is investment.  Kyriakos Mitsotakis, the leader of New Democracy, would become prime minister if his party wins next year's election. If so, he says he'd issue permits for a mining project in Skouries, northern Greece, in his very first month in office and push for the development  of the site of the former Athens Airport of Hellinikon.
Irish Momentum | Sharon Donnery is getting closer to becoming the euro zone's top bank supervisor. The deputy governor of Ireland's central bank can count on the support of a bloc of ECB policy makers from northern nations when the governing council holds a secret ballot next month. The decision is the first of four key appointments in the next year that will reshape the leadership of the ECB, including the presidency after Mario Draghi.
French Reshuffle | The long-expected French cabinet overhaul was arguably much ado about nothing. Emmanuel Macron replaced his interior and agriculture ministers in a minor reshuffle of his government team aimed at bringing fresh impetus to his presidency amid sliding ratings. The limited scope of the changes signals Macron's determination to push ahead with his reform plans with scant regard for opinion polls. 
Italian Numbers | Italy's fractured coalition government cobbled together a last-minute budget accord that starts delivering on costly election promises but risks a confrontation with Brussels. Market reaction was sanguine as investors had already priced in the numbers and the budget at least wasn't worse than they expected. Even after yesterday's bond rally though, the cost of borrowing for Italy remains high enough to risk leading the nation into a debt spiral. 
Money Laundering | Latvia is looking into connections between several unnamed local lenders and a Turkish company sanctioned by the U.S. for attempting to supply North Korea with weapons and luxury goods. Already grappling with the closure of its No. 3 lender and bribery charges against its central bank governor, the latest allegations stem from Oct. 4 action by the Treasury Department. No wonder than neighboring Lithuania is eager to distance itself from its Baltic cousin. 
Antitrust Charges | Google will start charging smartphone makers seeking to install its app store and services for devices sold in Europe, changes it says it must make to comply with an EU antitrust order in July that brought a record 4.3 billion-euro fine. Starting Oct. 29, new phone models that install the Play Store and a bundle of Google apps, including Gmail, YouTube and Google Maps, must pay a licensing fee, Google said in a blog post yesterday.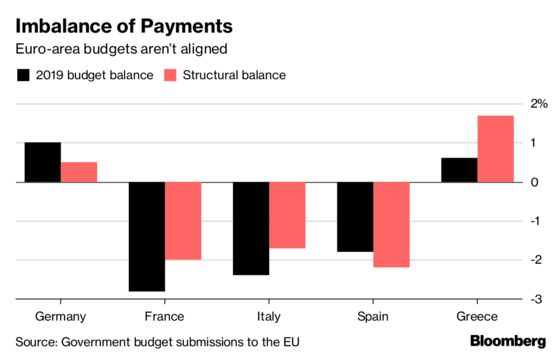 Budget season has officially kicked off in Brussels now that euro-area countries submitted their draft plans for review.  Next, the European Commission has to study them and issue its opinion on whether they're compliant with EU limits. The broader question is whether countries are enthusiastic enough in their efforts to build fiscal buffers, as advised by the International Monetary Fund and the European Central Bank, to be better prepared to weather the next financial crisis.
11 a.m. Eurostat to release final inflation reading for September
4 p.m. EU Parliament's Development Committee and the European Think Tanks Group are organizing a public debate on the future of development and innovation in Europe. EU Foreign Policy Chief Federica Mogherini and Bill and Melissa Gates Foundation co-chair Bill Gates will join one of the panels 
4:30 p.m. Wilbur Ross, U.S. Secretary of Commerce, briefs media in Brussels
6:40 p.m. EU27 leaders meet over dinner in Brussels to discuss Brexit
7:45 p.m ESM Managing Director Klaus Regling to give a keynote speech at the parliamentary evening of the Association of the German Savings banks in Brussels
9 p.m. EU Commission Vice President Valdis Dombrovskis delivers a speech at an Oxford Union debate on how the euro is stronger than it has ever been
College of Commissioners convene. EU trade chief Cecilia Malmstrom to give a readout after the end of the meeting
EU top court rules in Irish case concerning a dispute over VAT stemming from Ryanair's failed takeover bid for Aer Lingus
EU top court gives non-binding opinion in bid by three German NGOs to overturn the Commission's 2012 decision to allow Monsanto to bring products containing genetically modified soybeans to the market
EU top court rules in two separate cases by the Commission against the U.K. and against Ireland, accusing them of violating EU fiscal marking rules
EU Commissioner Julian King delivers the keynote speech at the European Banking Federation (EBF) Cyber Security Conference in Brussels