Brussels Edition: Cooling Down?
(Bloomberg) -- Welcome to the Brussels Edition, Bloomberg's daily briefing on what matters most in the heart of the European Union.
The European Commission's publication of its economic forecasts today may confirm the persistent slowdown in the euro area, complicating options for European Central Bank policy makers poised to cap asset purchases this year. Forecasts for Italy will particularly be in focus for signs that assumptions underpinning the government's controversial budget targets are overly optimistic, as the EU has warned.
Family Loyalty | Expect Europe's Christian Democrats to project a united front after their widely predicted selection later today of Germany's Manfred Weber as the party's candidate for EU Commission president. At its Helsinki congress, the EU's biggest political family drew up a resolution on the need to protect EU values and got the Fidesz party of Hungarian Prime Minister Viktor Orban to endorse it. The price: A reference to "liberal democracy" was deleted from the text.
Liberals Unite | Over in Madrid, European Liberals are hosting their own congress, which runs until Saturday and where officials from Emmanuel Macron's La Republique En Marche party are expected to speak as the French President seeks new political alliances. While the Liberals won't pick a candidate, they'll announce plans for European elections and whether they'll form an alliance with Macron's party in their showdown with proponents of nationalism.
Brexit Progress | Theresa May could visit Brussels within days to trigger the final phase of negotiations over the U.K.'s divorce from the EU. The bloc is waiting for her Cabinet to approve the draft Brexit treaty which, barring a few alterations, is now complete. What's missing is the most contentious part of the deal: the guarantee to keep goods flowing freely across the Irish border.
Watchdog Pick | The ECB nominated veteran regulator Andrea Enria to become the second-ever head of its supervision arm. The 57-year-old Italian man takes charge as the ECB grapples with money-laundering scandals and a mountain of bad loans on banks' balance sheets. Many of the industry's players are also struggling to adapt to low interest rates just as competition from tech startups starts to bite.
Deutsche Trump | Deutsche Bank's lending to President Donald Trump is likely to be a focus of scrutiny for Democrats now that they have more power to launch investigations, Representative Maxine Waters pledged. Deutsche Bank was one of the few banks "amenable" to providing Trump with financing before he became president, Waters, who is in line to take over the House Financial Services Committee, said in an interview with Bloomberg Television.
Italian Vote | Italy's populist government won a confidence vote in the Senate, quelling dissent from Five Star lawmakers to push through tighter restrictions on asylum seekers. Deputy Premier Matteo Salvini has overtaken his coalition partner Luigi Di Maio of the anti-establishment Five Star in opinion polls thanks to the migration issue, which is just one of the topics causing friction between them as they resist EU demands to rein in spending plans.
Stamp Duty | Spain will change its mortgage law so that banks foot the bill for future stamp-duty payments on property purchases. The government announcement was a response to the popular and political outrage that followed a court decision on Tuesday night that said lenders aren't liable for the stamp duty and that home buyers should pay it. 
Tariff Risk | The EU is threatening to slap tariffs on Asian leaders who abuse their power, a move that risks upending several key garment-producing nations in the region. After warning countries such as Cambodia and Myanmar, human-rights activists have applauded the EU, but some in the business community see the moves as counterproductive.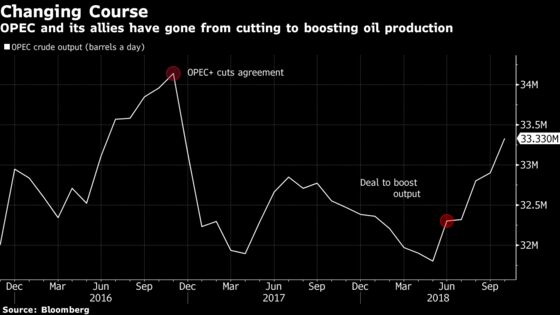 OPEC is enduring one of the most head-spinning years in its history, swerving from cutting oil production to boosting it as quickly as possible. Now it's talking about reversing course again.
11 a.m. European Commission releases its quarterly economic forecasts 
11 a.m. Speeches by European Commission President Jean-Claude Juncker, European Council President Donald Tusk and European Parliament President Antonio Tajani in Helsinki
2:30 p.m. Juncker gives joint press conference with Finnish Prime Minister Juha Sipila in Helsinki
EU Commission VP Jyrki Katainen delivers a speech in Helsinki on EU trade policy at the event "EU as a Global Superpower" 
EU Competition Commissioner Margrethe Vestager speaks in Madrid at a Spanish competition authority conference and at events by publishers Europapress and El Economista
ALDE Party Congress in Madrid