Brussels Edition: Competition Matters
(Bloomberg) -- Welcome to the Brussels Edition, Bloomberg's daily briefing on what matters most in the heart of the European Union.
After weeks of Italian budget drama and Brexit talks dominating attention in Brussels, competition watchers will appreciate the slight shift in focus today. The EU's lower court will rule in three cases that could affect competition issues in mergers. The bloc's antitrust chief, Margrethe Vestager, will then be questioned in the European Parliament. There's plenty to quiz her on: a probe into alleged collusion by German carmakers and efforts to examine how Amazon handled sellers' data. And, of course, there's the record 4.3 billion-euro Google fine from July.
Carbon Cap | Germany may be outvoted when EU environment ministers meet in Luxembourg today to fix a tougher carbon-dioxide cap for cars. Austria, holder of the EU's rotating presidency, may win majority backing for a 35 percent reduction target in 2030 compared with 2021, deeper than the 30 percent urged by Germany. Next up: working out differences with the European Parliament, which last week voted for a 40 percent cut in 2030.
Italian Woes | Italy's Finance Minister Giovanni Tria will defend his government's fiscal targets in parliament today when opposition lawmakers grill him on the spending plan that spooked both the EU and financial markets. There's not much optimism in Brussels that the coalition will change its tack, even as Italian bond yields climb to multi-year highs and despite Tria himself reportedly pressing for a tighter deficit before giving ground.
The Hardliners | Representatives of Northern Ireland's Democratic Unionist Party — which props up Theresa May's government and takes the toughest line on post-Brexit plans for the Irish border — will chew over ideas to break the deadlock with Michel Barnier, the EU's chief negotiator. Leader Arlene Foster yesterday demanded the U.K. leave the EU "as one nation," rejecting attempts to subject the province to different rules from the British mainland. 
Europe's Enemies | Italian Deputy Prime Minister Matteo Salvini said Europe's real enemy is Jean-Claude Juncker and the Brussels bureaucracy that pushes budget restrictions and open borders. Sitting alongside French nationalist Marine Le Pen in Rome, Salvini said the European Parliamentary elections next year will be a showdown between those focused on creating jobs and those imposing austerity. Italian bonds and stocks tumbled.
French Finances | It's not just Italy that risks fiscal slippage. France's draft budget includes a one-off tax break that will push the country's deficit close to the EU limit of 3 percent of GDP. The government is hoping tax cuts for households will reinvigorate the economy after a disappointing performance in 2018. Rome is almost certain to complain about double standards if the EU gives the French plan a green light.
Spanish Challenge | After ousting conservative Mariano Rajoy from office, the new Socialist government faces its biggest test yet: approving a budget. To get the bill approved, the Socialists will have to cut cross-party deals with anti-austerity group Podemos and Catalan nationalists. A trial by fire for a government that has to balance a pledge to increase social spending with taming the deficit.
Merkel's Merger Call | Chancellor Angela Merkel called for an acceleration in corporate mergers in Europe to help the continent better compete with Asia and the U.S. in areas including chip production, artificial intelligence and battery technology. Merkel said she disagreed with the EU over the bloc's restrictive competition framework, which should be reexamined.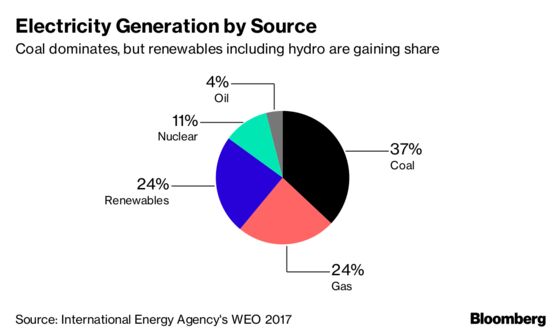 The world must invest $2.4 trillion in clean energy every year through 2035 and cut the use of coal-fired power to almost nothing by 2050 to avoid catastrophic damage from climate change, according to scientists convened by the United Nations. To limit warming to 1.5 degrees — a level which would already have severe consequences, including a multi-meter rise in sea levels — would require a roughly fivefold increase in average annual investment in low-carbon energy technologies, according to the report published Monday. The life or death question for all of us is whether our governments will rise to the challenge.
9 a.m. EU environment ministers gather in Luxembourg to discuss the regulation on CO2 emission standards for cars and vans with the aim of reaching a general approach
9:30 a.m. EU second-highest court rules in bid by 1&1 Telecom GmbH, owned by United Internet AG, to cancel a complicated package the EU agreed to with Telefonica SA during the takeover of E-Plus in 2015 that attempted to open up the German telecoms market 
10:30 a.m. EU Competition Chief Margrethe Vestager speaks at the European Parliament's economy committee
11 a.m. Press conference in Brussels to brief the press about the upcoming NATO exercise Trident Juncture 2018
EU's chief Brexit negotiator Michel Barnier meets Arlene Foster, leader of the Democratic Unionist Party and MEPs James Nicholson and Diane Dodds