Brussels Edition: How to Spend a Trillion
(Bloomberg) -- Welcome to the Brussels Edition, Bloomberg's daily briefing on what matters most in the heart of the European Union.
While they may be bemused by the chaos across the Channel, it's not really Brexit that's keeping EU governments up at night. At their summit next week, EU leaders will discuss the bloc's trillion-euro budget for 2021-2027, on which progress in negotiations has been excruciatingly slow, according to an internal report seen by Bloomberg. The aim is to reach a deal by "autumn 2019," according to the latest draft of the summit's conclusions, while the insistence of contributors like Germany to tie disbursements to democratic standards is threatening to drive yet another rift between the EU's core and its estranged eastern flank.
Single Market | Leaders are also going to devote a substantial chunk of their communique to praising the EU's single market — the U.K.'s nemesis or salvation, depending on how you see it. But despite the pledges in the draft to strengthen and reinforce the bloc's crown jewel, recent decisions, like the one this week to tighten rules on the free movement of trucks, risk fragmenting it. Or at least that's how eastern member states see it, in yet another source of friction.
Disinformation Campaign | Pledges to fight against "large-scale disinformation campaigns" and a call for "swift and decisive action" at the national and regional levels on securing free and fair elections, will be made by the leaders in a thinly veiled reference to Russia and firebrand populists using social media to undermine the bloc. Google, Twitter and Facebook face increasing EU pressure to block online misinformation.
Climate Change | Also at the summit, leaders will agree to act on the European Commission's plan unveiled last week to cut net emissions to zero by 2050. By the time they meet, they may have more clarity from the talks in Poland among almost 200 countries on how to meet the goals of the Paris accord against climate change. The grim reality, however, is that emissions from advanced economies are set to rise in 2018 for first time in five years, reversing a declining trend.
Migration Fudge | We also hear that a temporary fudge to ease the pressure on countries burdened by refugee flows may be squeezed into the summit conclusions. Faced with continuing deadlock over the reform of existing rules to allocate asylum seekers between member states, a temporary solidarity mechanism is being discussed. Efforts will be made to legislate elements of the reform package on which there is consensus, leaving the trickier parts out for  later.
Russian Sanctions | After Russia got slapped by NATO allies over a landmark nuclear treaty, expect more tough talk at the summit next week. Angela Merkel and Emmanuel Macron (nicknamed M&M by some EU diplomats) will  update their peers on progress in peace talks for Eastern Ukraine. Based on their recommendation, the bloc will decide to roll over Russian sanctions. Some member states are pushing for strong language over the  recent tension in the Azov Sea.
Bad Loans | The European Parliament's economic affairs committee votes today on new provisioning rules for banks' future non-performing loans. The step shouldn't create too much drama as lawmakers have stayed close to what EU member states have already decided, which means everyone's in favor of cutting the banks some slack.
Austrian Banks | Austria's plan to take bank supervision out of the central bank is now making waves in Frankfurt, where EU governors are meeting at the ECB today. Unions representing central bank staff across the bloc smell a "serious violation" of central bank independence by Vienna, according to a letter they sent to Mario Draghi.
Christmas Meal | Yet to finalize your Christmas meal plans? Well, Bloomberg Pursuits has an idea for you — in picturesque Salzburg. It says St. Peter Stiftskulinarium's Silent Night dinner is Europe's hottest holiday affair as the restaurant has had 1,200 years to perfect its Christmas dinner, and has served the likes of Christopher Columbus and hometown hero Wolfgang Amadeus Mozart.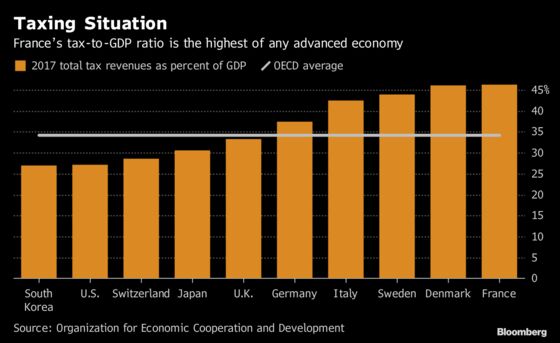 9:30 a.m. European lawmakers vote on legislative proposal to prevent web firms from offering unfair terms to small businesses that sell or promote their services on the platforms. Once the lawmakers agree their position, that will kick off negotiations with the European Parliament and the European Commission to finalize the text before it becomes law
10 a.m. European Parliament's committee on economic and monetary affairs votes on provisioning backstop for nonperforming loans
10 a.m. Press point by EU Commissioner Hogan on future Common Agricultural Policy in the framework of the 2018 EU Agricultural Outlook Conference
10:45 a.m. Single Resolution Board Chair Koenig in hearing at European Parliament's ECON committee
11 a.m. Eurostat publishes data on air passenger traffic
11:30 a.m. Press conference by EU Commissioner Jourova on Safety of Products in the context of St. Nicolas Day and Christmas
EU Justice and Home Affairs ministers meet in Brussels
EU lower court rules on challenge by Belgium against 2014 EU decision on a guarantee scheme protecting the shares of members of financial cooperatives
EU Competition Commissioner Vestager in Slagelse, Denmark: attends Citizens Dialogue with European Movement Denmark
CEPS think tank hosts full-day cybersecurity event, where EU and national cyber officials, as well as private sector companies, gather to discuss how to make European cyberspace safer