Brussels Edition: Banking After Brexit
Investment banks in the U.K. take note: The European Parliament may be about to make life after Brexit a bit more challenging. European lawmakers are attempting to change the way services can be supplied to EU customers from outside the bloc. Their compromise proposal will be put to a vote this afternoon. If passed, it must still be discussed with national governments, with France in particular pushing for a more restrictive regime.
Draghi Speaks | EU lawmakers will also host European Central Bank President Mario Draghi today to discuss "euro-area economic and monetary prospects," and especially plans to end quantitative easing. As ECB officials prime investors for the euro area's first interest-rate increase since 2011, they can draw useful lessons from the U.S. experience three years ago, Piotr Skolimowski and Christopher Condon report. 
Trade Challenge | EU trade chief Cecilia Malmstrom is in New York for talks with the U.S. and Japan on stemming Donald Trump's assault on the World Trade Organization and forcing China to end "non market-oriented policies" that create unfair competition and lead to overcapacity. "It's a longshot," said Chad Bown, a senior fellow at the Peterson Institute for International Economics. To prepare, Malmstrom could do worse that read this profile of her U.S. counterpart, Robert Lighthizer, by Shawn Donnan. 
Antitrust Supremo | Of course, the real star of the EU contingent dispatched to the U.S. this week isn't Malmstrom, nor even EU Commission President Jean-Claude Juncker, who'll attend a reception hosted by President Trump today. It's the EU's antitrust chief Margrethe Vestager, whose battles with the likes of Apple and Google have led to her being tipped for one of Europe's top roles when she finishes her stint in office next year. Aoife White has more details about Vestager's U.S. tour. 
Salzburg Fallout | As the fallout from the Salzburg summit continues to reverberate throughout U.K. politics, Unicredit economists Daniel Vernazza and Erik F. Nielsen have a counter-intuitive take on Prime Minister Theresa May's woes. "The Salzburg disaster and her performance on Friday will probably help her get through the Conservative party conference," Nielsen writes in his Sunday wrap, a Brussels Edition favorite read. Predicting a deal with the EU will eventually be reached, he says to "expect further concessions at the last minute, and, again, mostly from the U.K." 
Italian Budget | Don't worry about "extra decimal points" in Italy's deficit, says Deputy Prime Minister Matteo Salvini. He has spoken to foreign investors and "all of them" urged him to press ahead with an "expansionary" budget, he told Corriere della Sera, pushing back against warnings by Bank of Italy Governor Ignazio Visco that plans to widen the deficit would spark negative market reaction and an "unsustainable" risk for Italy's massive debt pile. Rather, Salvini pledged the government will unveil a "courageous" budget.
Danish Laundromat | Denmark's parliament is working overtime to tighten the country's anti-money-laundering laws, after S&P Global Ratings said the sheer scale of the Danske Bank scandal has put the Danish government's AAA credit grade at risk. Danske has admitted that about $234 billion flowed through a tiny unit in Estonia between 2007 and 2015, and is treating a "large" share of that amount as "suspicious" transactions. The FT reported that the commission has asked the European Banking Authority to investigate the scandal.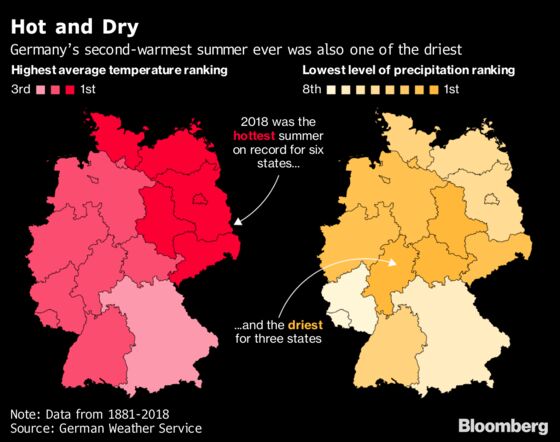 It was the second warmest summer on record in Germany, and the ensuing drought has affected crops so badly that Europe's second-biggest grains grower is poised to become a net importer for the first time in more than three decades. Amid the gloom of diminishing river levels hampering barge traffic and threatening power generation, at least winemakers are happy, as the warm weather has brought them an excellent harvest. Let's drink to that. 
3 p.m. EU Parliament monetary policy dialogue with Mario Draghi, president of the European Central Bank.

6 p.m. EU Parliament's ECON committee votes on new rules for investment firms, which could impact banks in the U.K. after Brexit 

9 p.m. EU trade chief Cecilia Malmstrom in New York, speaks at ministerial meeting of the Alliance for Torture-Free Trade

EU Commission President Jean-Claude Juncker attends a reception hosted by U.S. President Donald Trump in New York; Juncker also speaks at the Nelson Mandela Peace Summit at 6:45 p.m. Brussels time

Informal meeting of EU agriculture ministers in Austria

EU Council President Donald Tusk meets with Kosovo President Hashim Thaçi at the UN General Assembly in New York

EU Competition Commissioner Margrethe Vestager gives a speech at European Competition Day gathering of national authorities in Vienna 
Like the Brussels Edition?