Brussels Edition: Armies of the West
(Bloomberg) -- Welcome to the Brussels Edition, Bloomberg's daily briefing on what matters most in the heart of the European Union.
After U.S. Secretary of State Michael Pompeo crashed a meeting of EU foreign ministers on Monday to discuss Iran, it's Brussels' turn to irk the Americans. The bloc's defense ministers today will discuss joint projects that would exclude businesses based outside the EU. A France-led group is insisting on the restriction, citing the need for EU autonomy. In addition to badgering European governments to spend more on defense, Washington has warned the bloc about shutting American companies out of potentially lucrative defense contracts. There are hardly any major policy dossiers left on which the two pillars of what we broadly call "the West" are on the same page these days. 
Still Deadlocked | U.K. Prime Minister Theresa May will meet with her cabinet today as she comes under increasing pressure to pull out of Brexit talks with the opposition Labour Party and set a date for her departure. The latest in a series of cross-party meetings aimed at ending the deadlock over leaving the EU broke up without substantive progress yesterday.
Trade Wars | It may get worse before it gets better for transatlantic ties, especially if Donald Trump hits Europe's car industry with punitive tariffs as soon as this week. EU trade chief Cecilia Malmstrom told Bloomberg the bloc is ready to retaliate "quite rapidly." Meanwhile, the global trade war in in full swing. 
Iran Hard Line  | U.S. Secretary of State Michael Pompeo made scant progress persuading EU counterparts on a harder line toward Iran, with the EU standing behind the nuclear accord abandoned by Washington -- and warning of a potential military conflict.
Peak Populism | The May 23-26 EU elections might prove to be the high-water mark for populist insurgents, a Bloomberg analysis of the latest polls shows. While anti-establishment parties are on track for historic gains, coordinating the political ambitions of the myriad populist groups contesting the vote will be a daunting challenge for firebrand leaders. 
Third Time Unlucky | Benoit Coeure is possibly the best-qualified candidate to be the next European Central Bank president, but with governments – not policy makers – deciding on who succeeds Mario Draghi in Frankfurt, that may not be enough. After missing out on two leadership positions since 2015, this could be third time unlucky. 
Poland's Jews | Poland abruptly canceled a visit by Israeli officials amid concern that talks would focus on the unsettled issue of Jewish property restitution. The latest cancellation comes on the heels of a weekend march in Warsaw by thousands of nationalists who demanded Poland refrain from paying any compensation to Jews or anyone else whose properties were confiscated by the Nazis and later by the Communists, and adds to an ever-growing list of spats between the two countries. 
Romanian Laws | Romania may soon join Poland and Hungary on the blacklist of EU members formally accused of undermining democratic standards. A reminder that it was only Friday when all 27 leaders vowed to protect "democracy and the rule of law," even as it's unclear that they all have the same understanding of the concepts.
Cheap Beer | AB InBev was fined 200 million euros by the EU for blocking Belgian stores seeking to buy up cheaper supplies of Jupiler beer from Dutch retailers and wholesalers to resell in Belgium. "Consumers in Belgium have been paying more for their favorite beer because of AB InBev's deliberate strategy to restrict cross-border sales," EU's antitrust chief Margrethe Vestager said. It's unclear why she thinks Jupiler is our "favorite" beer. 
Private Islands | We admit that most of this week's newsletter items – from trade wars to white supremacist ministers – have been particularly depressing, but we do have a solution for you: Bloomberg Pursuits recommends eight private islands which are on sale for those of you who can afford to escape this mad world.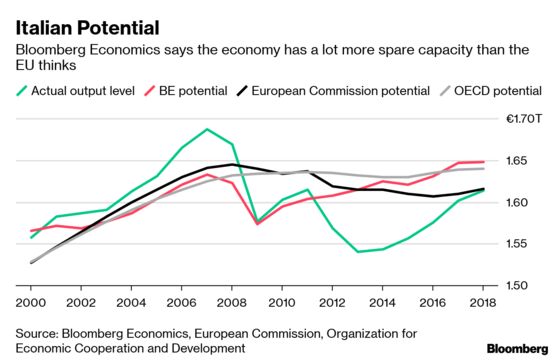 Italy's government may have more leeway for fiscal stimulus without falling afoul of EU rules than European Commission economic predictions would suggest, according to Bloomberg Economics. The commission estimates Italy's output gap was only 0.1% of potential GDP on average in 2018, while BE thinks it was closer to 2%. That's partly because the commission focuses too narrowly on the economy's latest performance, which underestimates potential in the aftermath of a crisis.
9:30 a.m. EU Commission President Jean-Claude Juncker delivers the opening speech at conference on the 10th anniversary of the Eastern Partnership

10 a.m. European Commissioner Christos Stylianides speaks at event on emergencies with Nobel Prize Laureate Denis Mukwege and singers Axelle Red and Typh Barrow

11 a.m. Eurostat to release industrial production reading for March 

2 p.m. EU Ombudsman Emily O'Reilly holds press conference

EU Commission VP Jyrki Katainen participates in a roundtable discussion on "The New Strategic Outlook on EU-China Relations" organised by the Ambrosetti Club, in Brussels 

EU agriculture ministers meet in Brussels, to discuss future of common agricultural policy, transition to climate neutrality

EU defense ministers meet in Brussels to discuss EU-NATO cooperation, hold meeting with their Sahel counterparts

U.K. Prime Minister Theresa May chairs weekly Cabinet meeting

NATO Secretary General Jens Stoltenberg visits U.K, holds meetings with May, Foreign Secretary Jeremy Hunt