Brussels Edition: Another Coalition Unravels
(Bloomberg) -- Welcome to the Brussels Edition, Bloomberg's daily briefing on what matters most in the heart of the European Union.
Greek Prime Minister Alexis Tsipras became the latest European leader to watch his coalition government unravel after a four-year rule with populist right-winger Panos Kammenos came to an end over the Macedonian compromise. Tsipras now faces a confidence vote this week. With polls showing that neither man would fare well in a snap election, several conservative lawmakers may follow their self-preservation instincts and prop up the government. We'll know soon whether this is all a storm in a teacup, allowing both party leaders to score political points without risking much, or something more serious.
Swedish Deal | Speaking of fragile coalitions, a record-long political gridlock in Sweden appears to be nearing an end after Social Democratic leader Stefan Lofven struck a deal with key centrist parties to remain in power. The accord keeps nationalists out of power, after they made huge gains in last year's election. But it still needs the backing of the Left, which is far from certain. 
Juncker's Letter | The EU's latest attempt to help U.K. Prime Minister Theresa May sell the Brexit deal to an unruly British parliament is set to come before tomorrow night's vote. Commission President Jean-Claude Juncker is expected to send a letter saying the EU will do all it can to negotiate a trade deal rapidly, negating the need for the much-disliked Irish border backstop. Unfortunately for Juncker and May, neither EU nor U.K. officials are optimistic it'll work.
German Coal | Angela Merkel this week will seek to bridge divisions in Germany about how quickly to cut the nation's reliance on coal, a controversial issue that has sparked violent clashes between green protesters and police, and rattled the brittle governing coalition. The chancellor is struggling to balance climate-friendly pledges against demands from industry to protect jobs and consumer groups for cheaper energy.
Zombie Tax | After seven years in hibernation, Europe's controversial tax on financial transactions may resurface. France and Germany circulated their latest proposal to the coalition of the willing states which have signed up to the initiative, and we got the draft. According to the plan, stock buyers in Europe would pay a transaction levy of at least 0.2 percent of the purchase price.  
Italian Pledges | Italian Finance Minister Giovanni Tria reiterated the populist government is committed to cutting debt and keeping the deficit under control, adding that he hopes for an economic pickup in the next two or three years, despite forecasts to the contrary. In an interview with Corriere della Sera, Tria also denied that the Italian economy is in a phase of recession. 
Le Pen's Campaign | France's anti-immigration leader Marine Le Pen launched her party's campaign for the May EU elections, saying she and her allies want the EU to return more power to nations and the "people." Polls show that Le Pen's National Rally is slightly ahead of President Emmanuel Macron's movement, with all the other parties far behind.
Huawei Divisions | As Poland added to the global scrutiny of Huawei Technologies Co. on Friday with the arrest of a company employee and a local former security agent, the country's authorities also exposed the divisions in Europe over policy toward the Chinese technology giant. Here's how.
Baltic Buzz | Courting fintech companies is paying off for Lithuania. The Baltic nation has promoted itself as a launchpad for high-tech startups with an eye on the EU and the euro area, offering English-language services and three-month approval for licenses. Big-name companies, including Google Payment, already obtained banking and e-money permits and the sector is projected to grow by 15 percent this year.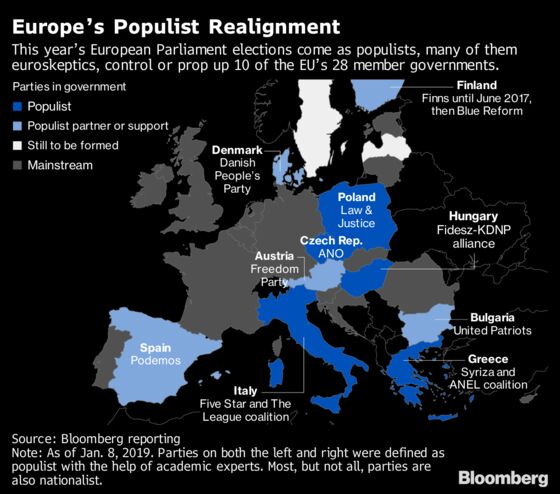 Steve Bannon had a front-row seat to see Belgium's liberal-led government disintegrate last month after delivering a fiery, anti-migration speech to local lawmakers just hours earlier. President Donald Trump's former adviser is now eyeing Spain as the next domino to fall in his drive to disrupt European integration, Joshua Green and Richard Bravo report. 
EU Competition chief Margrethe Vestager in Copenhagen delivers a keynote speech at the annual summit of the Europa think tank
11 a.m. Eurostat to release November industrial production and 3Q balance of payments readings
Chancellor Angela Merkel's Christian Democratic Union concludes its winter retreat in Potsdam, lays out its agenda for 2019. It's the first such meeting under new party chairwoman Annegret Kramp-Karrenbauer.