Brussels Edition: An Uphill Battle Awaits
(Bloomberg) -- Welcome to the Brussels Edition, Bloomberg's daily briefing on what matters most in the heart of the European Union.
It's difficult to overestimate the significance of Europe's collective pledge to become the world's first climate-neutral continent. But Poland's refusal to commit to the target didn't just make a public relations disaster out of a historic moment. The long and acrimonious debate in yesterday's gathering of EU leaders over a distant target doesn't bode well for the hard part of it all: turning the pledge into concrete policies. Warsaw's stance may prove the canary in the coal mine for what's about to follow.
Brexit Delivered | After almost four years of gridlock, Boris Johnson's decisive election victory yesterday will give the U.K. prime minister free rein to take the country out of the EU in January and define its future relationship with the bloc. After upending British politics, he now has to decide what Brexit means in practice.
Euro Reform | EU leaders today will welcome steps to shore up the euro area, even as internal political developments in Italy and Germany hindered prospects of more substantial progress. They're also expected to say that the euro's international role should be commensurate with the EU's global economic weight, a nod to the bloc's plans for its currency to take on the dollar's supremacy. 
ECB Boss | If Christine Lagarde carries on as she started, she may turn out a lot less trigger-happy than her predecessor. Six weeks after taking office, she gave an assured performance at her debut press conference focusing on the need for reflection rather than action. Her careful statement came amid pressure by some policy makers to mention the damaging effects of negative interest rates. 
Italian Debt | The cleanup of Italy's banks is accelerating. Lenders of the euro area's third-largest economy are still struggling to work off the pile of non-performing loans they accumulated during the crisis, but here's a few charts hinting at progress.
Trade Arsenal | The EU proposed new trade enforcement regulation yesterday that would allow the bloc to impose sanctions against countries that illegally restrict commerce and simultaneously block the WTO's dispute-settlement process. The timing of the initiative isn't coincidental: it comes just after the WTO's appellate body ceased to be able to handle new cases because of a U.S. veto.
Roll Back | The French government signaled a willingness to roll back some aspects of its plan to revamp the nation's pension system, calling on organized labor to return to the negotiating table. The move came after a key union vowed to join a protest set for next week against the planned changes to one of Europe's most complex and generous pension programs.
Stay Out | Germany is pushing back on Donald Trump's move to impose sanctions on the controversial Nord Stream 2 natural gas pipeline, with Foreign Minister Heiko Maas rejecting outside meddling. His comments came as the government has been bracing for U.S. sanctions on the undersea supply link, which Trump has said contributes to Germany sending "billions" of dollars to Russia. 
5G Rebels | Angela Merkel is facing a potential revolt in parliament by lawmakers seeking to override her China policy and effectively ban equipment supplier Huawei from the country's 5G wireless network. The effort in Germany's lower house of parliament is a major challenge to Merkel's attempts at balancing security considerations over 5G with Germany's delicate economic ties with China.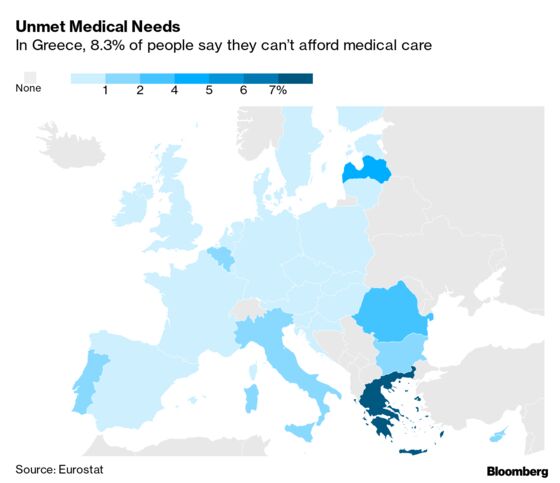 Greece might be exiting a decade-long crisis that shattered the economy, but its people are still suffering the consequences of austerity and a 25% drop in output. More than 8% of Greeks cited costs as a reason for unmet medical needs, compared with an EU average of just 1% who said they couldn't afford treatment. While the new government has promised well-paid jobs, Greece has a long way to go.
9 a.m. EU leaders meet in Brussels to discuss Brexit and euro-area reform