Brussels Edition: A Rocky Ride
(Bloomberg) -- Welcome to the Brussels Edition, Bloomberg's daily briefing on what matters most in the heart of the European Union.
Since the U.K. voted to leave the European Union two-and-a-half years ago, there have been several crunch moments in the Brexit journey. Few have been as dramatic as tonight's House of Commons vote on the deal, described yesterday as a "damaging shambles" by opposition leader Jeremy Corbyn. It's hard to find anybody who thinks Prime Minister Theresa May will win the backing of lawmakers for the Withdrawal Agreement. So what then? Many on both sides now expect Article 50 to be extended and Brexit delayed beyond March 29. The EU's next move will be determined by the scale of May's defeat and what approach she takes in the days to come. Whatever happens, it's going to be a rocky ride.

Draghi's Take |  ECB President Mario Draghi will make his first appearance of 2019 from the European Parliament in Strasbourg today, amid growing doubts over the durability of the euro area's economic expansion. While the central bank managed to halt its bond-buying program last month without roiling markets, investors have essentially written off any chance of a rate hike this year and are wondering what policy makers might do should the slowdown deepen.
Rail Colossus | Siemens and Alstom still have advocates in their stuttering plans to create a rail colossus, including some EU commissioners set to speak up during their weekly meeting in Strasbourg today. But that's unlikely to make a difference. Margrethe Vestager, who's in charge of the file and used to digging in her heels, made her views clear last week: Politically backed industrial giants can't be built by sidestepping tough merger rules.
Qualified Majority | The European Commission today will launch its bid to end national vetoes on tax policy. Given that unanimity is required to achieve this goal, as well as approval by all national parliaments, it's a long shot. But in its communication, seen by Bloomberg, the commission will argue that citizens demand a response to global issues like tax evasion, and that EU countries won't be able to deal with such threats on their own.
French Debate | Emmanuel Macron is hoping angry French will swap blocking traffic at roundabouts to debating the issues at town-hall meetings. The French president is launching what he calls "The Great National Debate" to hear the views of citizens on issues ranging from taxes to representative democracy. Question is, will he act on what they say.
Swedish Drama | As we told you yesterday, a hard-fought accord that will put an end to the Swedish political stalemate hinged on the Left's support, which finally came, but with strings attached. Now, Social Democrat leader Stefan Lofven is racing against the clock to bring together a disparate collection of market liberals and former communists to resolve the unprecedented impasse. 
Polish Murder | The mayor of the Polish city of Gdansk died on Monday after being stabbed during a charity event. The assassination has shaken Poland and comes in an increasingly febrile political climate. It was the first murder of a high-ranking Polish politician in office since communism ended in 1989. 
Romanian Banks | Banks exposed to Romania extended their plunge and the nation's bonds tanked on Monday, as investors' worst fears about a punitive tax on lenders started to materialize. The government's proposed levy is higher than many lenders' return on assets.
Outspoken AKK | The new leader of Chancellor Angela Merkel's party took the U.S. ambassador to Germany to task for warning companies involved in a Russian gas pipeline that they could face sanctions. Annegret Kramp-Karrenbauer was more outspoken than Merkel's government, which avoided criticism of the Donald Trump's envoy in Berlin, and came as the new CDU leader tries to emerge from under the chancellor's shadow.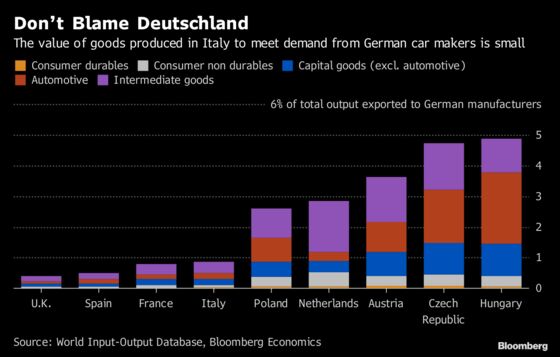 Italy's economy shrank in the third quarter and industrial production plunged in November. It's tempting to blame this on the travails of Germany's auto industry, but Bloomberg Economics' supply-chain analysis shows that the value of goods produced in Italy to meet demand from German carmakers is too small to explain the weakness. 
10:30 a.m. EU lawmakers in Strasbourg debate Austria's EU presidency with Chancellor Sebastian Kurz

11 a.m. Eurostat to release November international trade reading

11:30 a.m. Draghi, EU Commission President Jean-Claude Juncker and Eurogroup President Mário Centeno speak at the European Parliament to mark the euro's 20th anniversary

12 p.m. Google economist, academics discuss pricing and market power at Bruegel event 

3 p.m. Romanian Prime Minister Viorica Dancila presents the country's EU-presidency program to the European Parliament. A press conference by EP President Antonio Tajani and Dăncilă is scheduled at 5 p.m. 

3:30 p.m. EU Commission to release "communication" for abolishing national vetos on taxation matters 

5 p.m. Draghi addresses EU Parliament on the ECB's annual report

8 p.m.  U.K. House of Commons vote on Brexit agreement struck between Theresa May's government and EU 

Macron launches national debate to appease Yellow Vest protesters

German Finance Minister Olaf Scholz speaks at the 2019 Economic Policy Conference on Europe in Berlin
Merkel chairs a coal summit in Berlin with state premiers and coal commission officials
Vienna Euromoney Conference, where central bankers and finance ministers from eastern Europe gather in Vienna to talk about economic issues in the year ahead