Brussels Edition: A Disappointing Dinner
(Bloomberg) -- Welcome to the Brussels Edition, Bloomberg's daily briefing on what matters most in the heart of the European Union.
When the dinner devoted to Brexit was over last night, the predominant feeling among leaders seemed to be: "Why did we bother?" EU President Donald Tusk had requested "concrete" proposals from Prime Minister Theresa May and, while that didn't really materialize, her "openness" to an extended transition period seemed enough to keep the show on the road, at least for now. The leaders may be back for a Brexit summit in November but only if May can deliver the goods: They gave her some respite last night, but that won't happen again.
External Threats | EU leaders will switch their summit focus today from the internal mess that is Brexit to a slew of external challenges that test the limits of the bloc's "soft power." The heads of government or state will tackle threats that range from Russia to refugees. Here's a rundown of the things that keep these leaders up at night.
Italian Focus | Pierre Moscovici, the EU's economics chief, heads to Rome today for a two-day visit — and timing matters. The commission has less than a week to express concerns to Rome over its budget and another week to formally ask Italy to revise spending plans. Expect a letter from Brussels to land in Rome during or shortly after Moscovici's visit, our sources tell us. Italy's finances may also come up on the margins of a summit of euro-area leaders today in Brussels.
Trans-Atlantic Ties | U.S. Commerce Secretary Wilbur Ross and EU Justice Chief Vera Jourova meet today for a review of the trans-Atlantic data transfer pact. The U.S. will have to convince the EU it'll stick to the conditions of the so-called privacy shield, which protects technology giants from legal limbo while ensuring robust privacy safeguards. Meanwhile, Ross yesterday accused the EU of dragging its feet over market-opening pledges, challenging the fragile trans-Atlantic truce.
Clearing Spat | The U.S. Commodity Futures Trading Commission warned it will use "blunt and strong tools" to retaliate against EU-based financial firms unless the bloc's rule makers drop a plan that would give them sweeping power to scrutinize U.S. derivatives clearinghouses. The Brexit-prompted plan is being considered in Brussels because the bloc will relinquish oversight of London's clearinghouses once the U.K. leaves.
Post-Brexit Woes | The U.S. joined other WTO members — including tiny Moldova, which holds a grudge against the U.K. — in temporarily blocking the U.K.'s bid to stay in a $1.7 trillion public-procurement alliance. Britain, which will lose its current access after leaving the EU in March, will try again next month to stay in the pact.  
Green Gates | Breakthrough Energy Ventures, the startup fund founded by billionaire Bill Gates, opened a 100 million-euro investment fund to help European companies develop clean technologies. The fund is expected to begin operating next year. 
Bulgarian Prices | Bulgaria's efforts this summer to lock a course toward euro adoption suffered a setback as its bid was met with additional demands. Even as it addresses those, another potential roadblock is coming into view: inflation at a five-year high.
Polish Standoff | Poland asked the Constitutional Tribunal to rule on whether EU law supersedes national legislation, escalating a standoff with the bloc over the rule of law.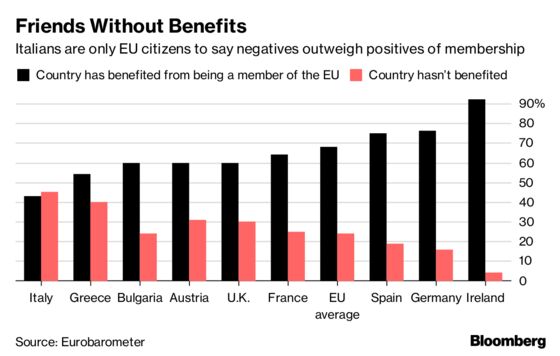 A look at public attitudes among EU citizens shows that 68 percent of those surveyed say their country has benefited from being a member of the bloc. While across the region just 24 percent think membership hasn't been advantageous, that's view of the relative majority in Italy, where a euroskeptic government took over earlier this year.
8:45 a.m. European Council in Brussels to discuss security, migration, euro-area reforms, external relations

10:15 a.m. Press conference by European Parliament President Antonio Tajani

5 p.m. Asia-Europe Summit

EU top court rules in case by the commission against the U.K. for violating its obligations under EU habitats rules 

EU top court rules in a case stemming from a claim for damages by German publishing company Bastei Luebbe before a German court over illegal file-sharing

EU rules to protect precarious workers, including on-demand, voucher-based and platform workers, will be voted on by the Employment Committee of the European Parliament

New binding reduction targets for CO2 emissions produced by heavy-duty vehicles will be up for a vote by the Environment and Public Health Committee of the European Parliament

Eurostat to release data on EU/Asia trade in goods

EU Commission VP Valdis Dombrovskis meets Philip Hammond, Chancellor of the Exchequer, and Standard Chartered Bank CEO Bill Winters in London

EU Commission VP Jyrki Katainen delivers the opening speech at the Artificial Intelligence 2018 event in Brussels

EU Commission VP Jyrki Katainen, Commissioner Vera Jourova receive U.S. Commerce Secretary Wilbur Ross