Bruised Tech Stocks Soar as Markets Rally After Election
Amazon.com Inc. and Netflix Inc., which each tumbled around 20 percent in October amid surging volatility, gained more than 5 percent apiece Wednesday. Google parent Alphabet Inc. rose almost 3 percent. Cloud-software stocks such as Splunk Inc. and Salesforce.com Inc. also jumped.
"These stocks are the leaders of this bull market," said Jason Benowitz, senior portfolio manager at Roosevelt Investment Group Inc. in New York. "If we're going to have a rally, they're going to participate in it."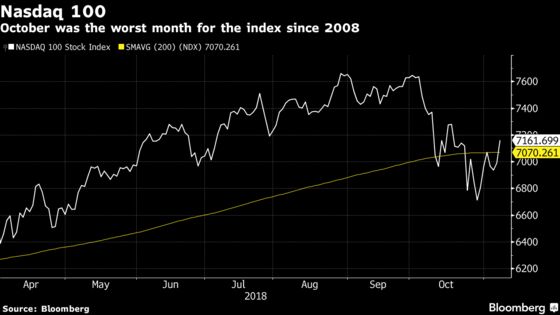 Investors in popular internet and technology stocks were punished last month amid higher interest rates and disappointing earnings reports from the likes of Alphabet and Amazon. The Nasdaq 100 Stock Index lost 8.7 percent in October, its worst monthly decline in nearly 10 years. On Wednesday, the group gained as much as 2.7 percent.
Social media stocks underperformed tech peers amid concerns that there may be bipartisan support for tougher rules on data privacy, security breaches and how companies handle misinformation spread on their platforms. But with gridlock in Congress, some market watchers said there is unlikely to be swift action or consensus on what new regulations might look like.
"I don't think any regulatory push will be nearly as big as the media has been telegraphing," said Jeffrey Saut, chief investment strategist at Raymond James Financial in St. Petersburg, Florida. "This is less of a headwind than people think, especially since there has already been so much attention to these issues that the companies are already trying to regulate themselves."
Facebook Inc. rose 0.2 percent at 1:09 p.m. in New York, while Twitter Inc. climbed 0.8 percent and Snap Inc. rose 1 percent.
Earnings results late Tuesday were mixed for tech with Tableau Software Inc. and Etsy Inc. surging on strong forecasts, while weak outlooks from companies such as Zillow Group Inc. and Mindbody Inc. sent their shares lower.
Square Inc., which sank 26 percent in October, reports third-quarter results after markets close. The stock was up 6.4 percent in afternoon trading.