Brokerages Want Piece of Lucrative Korean Foreign Bond Sales
(Bloomberg) -- South Korean bond sales have been on a tear recently in global markets, but the country's brokerages have been involved in very few of those deals. Some Korean firms want to change that.
Offshore note sales by Korean issuers have jumped 160% so far this year, including a $2.5 billion offering by SK Hynix Inc., the biggest-ever dollar deal by the nation's non-financial companies. But Korea Development Bank has been the only arranger from the country to underwrite foreign-currency bonds overseas from the nation's issuers in 2021.
Last year, other than KDB the biggest Korean underwriter of the nation's international debt was Mirae Asset Daewoo Co., and it was way down at No. 20 in league rankings for Korean offshore note deals, according to Bloomberg-compiled data.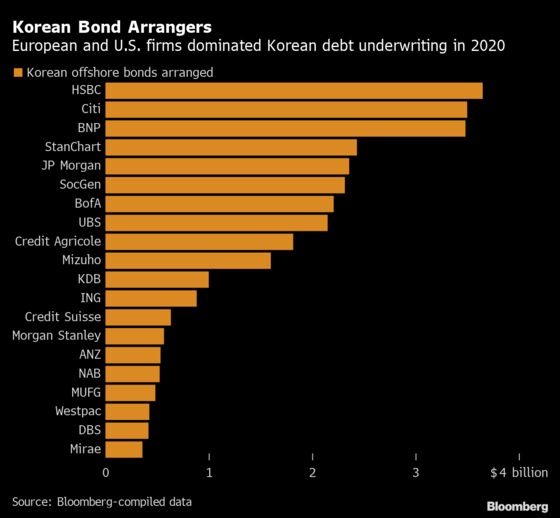 Seoul-based KB Securities Co., which has been Korea's No. 1 won-bond arranger for 10 years in a row, wants to boost its overseas presence too. It aims to be in the top 10 for Korean offshore note arrangers in a decade, according to Kim Sung-hyun, the brokerage's president and chief executive officer. Last year it was No. 26.
"We've been on the top at home, but we shouldn't stop here," Kim, who has more than 30 years' experience in the securities firms industry, said in an interview in Seoul. "We'll work with foreign banks to increase our experience at first."
An expansion of overseas debt underwriting by Korean firms would be in line with what the government has said is its goal of creating the nation's own Goldman Sachs, a giant brokerage that could compete internationally as a crowded securities industry at home weighs on profits. So far, a lack of experience has held the brokerages back from boosting operations abroad, with European and U.S. firms even dominating sales of offshore debt by Korean issuers.
Read more: Korea Inc. Sells Biggest Bonds Ever With Hynix $2.5 Billion Deal
Changes are afoot. KB Securities, a unit of KB Financial Group Inc., is increasing staff in its Hong Kong branch to boost the offshore bond business. It organized a syndication desk in the branch last year to secure a sales network, said Kim, the CEO.
KB Securities also said in October it will work with Japan's SMBC Nikko Securities Inc. to bolster its debt capital market department. The Korean brokerage arranged dollar bond deals by its affiliate KB Capital Co. as well as Lotte Shopping Co. last year.
Other major Korean securities firms are eyeing more debt business overseas. Mirae Asset Daewoo and Samsung Securities Co. are seeking more opportunities in the offshore bond market, spokespeople for the firms said.
Expanding abroad isn't without risks. Korean firms will be operating in unfamiliar markets with different regulations. The Bank of Korea also warned last year that increasing overseas real estate investments by the nation's brokerages pose potential risks in case the global commercial property market weakens due to the Covid-19 pandemic.
Still, doing more business abroad is probably a step Korean brokerages need to take to grow. Securities firms in neighboring Japan may serve as a good model. The Japanese firms have become major players in global debt underwriting, including for Korean notes: last year, Mizuho Financial Group Inc. was the No. 10 arranger of Korean offshore bonds, and Mitsubishi UFJ Financial Group Inc. was No. 17, Bloomberg-complied data show.
"I've been impressed by some of the big Japanese brokerages' performance in the global bond market," said Kim at KB Securities. "I thought that if they could do it, we could do it too."