Broken Promise on India Shadow Lender Shakes Investor Confidence
(Bloomberg) -- Indian lenders are being punished for their exposure to a shadow lender as the government fails to make good on its promise to halt defaults by the distressed financier.
IndusInd Bank Ltd. has lost more than $1.9 billion of market value since it announced quarterly earnings as net income growth missed expectations and provisions for doubtful loans shot up. Investors also penalized the lender for not detailing all its loans to Infrastructure Leasing and Financial Services Ltd. L&T Finance Holdings Ltd. has lost nearly 6 percent after disclosing exposure to the beleaguered infrastructure firm while Yes Bank slumped 11 percent.
The skittishness in the market isn't surprising given IL&FS group has missed more than 4 billion rupees ($54 million) in debt payments since the government committed Oct. 1 to ensure liquidity "so that no more defaults take place." The federal government's assurance came after it seized control of the vast conglomerate, which had rattled financial markets with a string of defaults on dues of about 910 billion rupees.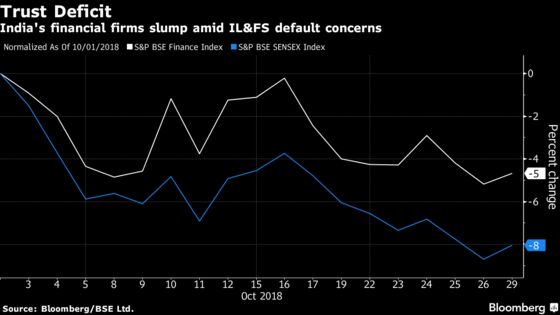 "The defaults at IL&FS continue despite government intervention, with no guarantee on when it will stop," said Mumbai-based Purvesh Shelatkar, a senior vice president at Centrum Broking Ltd. "Investors are not getting the confidence and the market is on tenterhooks."
A newly constituted board, headed by the richest banker Uday Kotak, is yet to outline a plan to deleverage the conglomerate, spanning 348 subsidiaries, which borrowed heavily from lenders and mutual funds.
Romesh Sobti, chief executive officer of IndusInd, told reporters on Oct. 15 that the bank has made provisions for loans to IL&FS, while declining to provide further details. L&T Finance has lent about 18 billion rupees to the shadow bank's units while Yes Bank had an exposure of 26.2 billion rupees, exchange filings for quarter ended Sept. 30 showed.
Yes Bank shareholders lost more than half a billion dollars on Friday following the disclosure on Thursday.
About 60 banks and non-bank lenders will announce earnings in the coming weeks. Already, the latter group had been struggling to contain the impact of the IL&FS debacle, which squeezed liquidity and raised borrowing costs for them. The 10 worst performers on the 118-member S&P BSE Finance Index have dropped more than 22 percent in the past month.
Some respite may be in sight. An Indian official has said that the government will start to release its pending payments to IL&FS group in 60 days. The lender needs one billion rupees a month just to stay afloat, another official had said earlier.