Britons Are Guzzling the Australian Wine That Didn't Go to China
(Bloomberg) -- Australia ramped up wine sales to Europe to a 10-year high, led by a surge to the U.K., which helped the country overcome crippling Chinese tariffs that effectively shut access to its most prized market.
The value of exports to Europe climbed 22% last year, according to data from Wine Australia. The standout performer was the U.K. where shipments jumped 29% over the full year after demand increased at the start of the coronavirus pandemic and was boosted in the months leading up to Brexit.
The higher sales countered a steep slump to China in the final two months of the year. Overall in 2020, wine exports fell just 1% in value even after Beijing imposed tariffs of over 200% on Australian wine in November, wiping out demand from the industry's most valuable customer and pushing prices lower.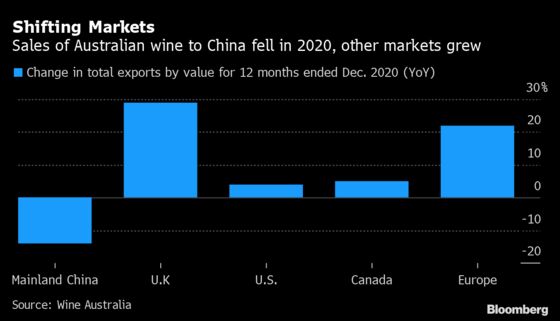 The U.K. extended its lead last year as the biggest destination for Australian wine exports by volume.
Other points from Wine Australia:
Wine exports dropped 1% in value to A$2.89 billion ($2.2 billion) last year, and increased 0.5% in volume to 747 million liters.
Despite the Covid-19 pandemic, exports hit a record value of A$3.1 billion in the 12 months ended October.
Exports to mainland China immediately fell following the tariffs in November. Overall value for 2020 declined 14% to A$1.01 billion and volume shrank 29% to 96 million liters.
Exports to Europe climbed 22% to A$704 million, including A$456 million to U.K.; North America was up 4% to A$628 million