U.K. Projects Face Multi-Billion Pound Funding Gap When Brexit Cuts Off EIB
(Bloomberg) -- The U.K. will be left with a multi-billion-pound gap in funding for housing, transport and infrastructure when Brexit cuts off access to the European Investment Bank.
EIB funding for British projects has shrunk 87 percent since the referendum in 2016 and the country will lose access entirely under the current terms of departure from the European Union scheduled for March 29, according to a parliamentary report. The EIB is the EU's lending arm, funded by its member states.
The U.K. also stands to lose 7.6 billion euros ($8.7 billion) on its previous contributions to the EIB, according to a report published on Thursday by the House of Lords' European Union committee. The government will get a refund on 3.5 billion euros in capital over the next 12 years under the Brexit withdrawal proposal, yet it has not struck a deal for its share of retained earnings.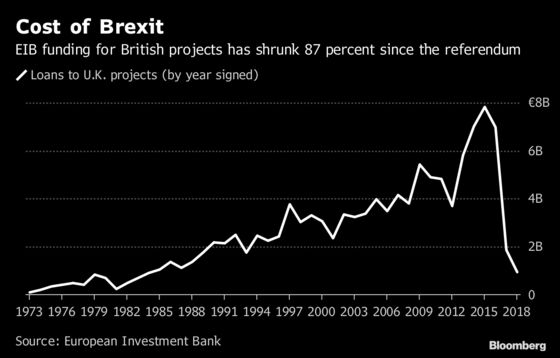 It's "seriously concerning that, with Brexit and the associated loss of access to EIB financing a matter of weeks away, the government has said nothing publicly about its ambitions for a future relationship with the EIB," the report said.
Since the U.K. gained access to the EU's bank in 1973, public and private ventures in the country have borrowed more than 118 billion euros for projects including wind farms, the Northern Powerhouse Investment Fund and London's Crossrail transport upgrade.
There are several routes to replace some of this funding. The House of Lords report recommended the government set up its own national infrastructure bank. The EIB lends about 10 percent of its funds to non-EU countries, although the report noted that most of this money currently goes to projects in developing countries.
The government said in October that the British Business Bank will receive 200 million pounds in extra funding in the year after Brexit, if no agreement is reached to extend the relationship with the EIB.